This 'DWTS' Alter Ego Is Ready To Dance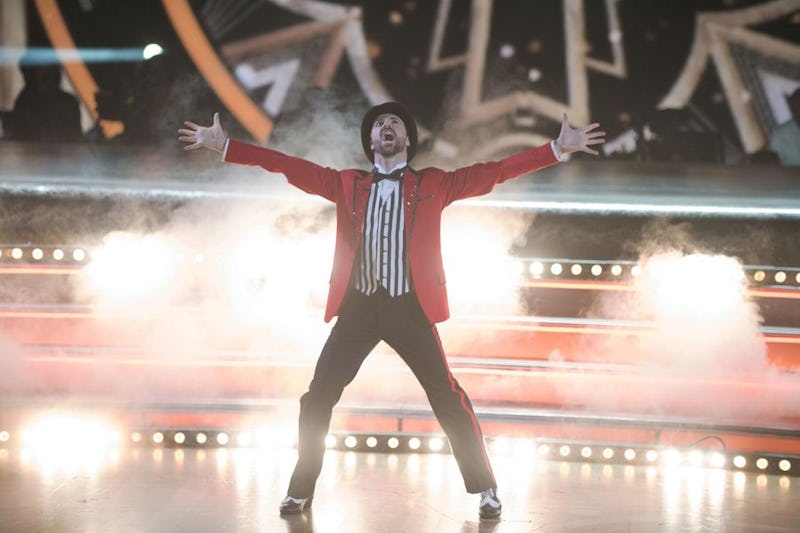 Sure, Laurie Hernandez could probably win the whole thing on Dancing With The Stars, but racer James Hinchcliffe, I think, hot on her heels. Hernandez is cute and gives really good winks at the camera, but Hinchcliffe has gotten better and better every week, and in Week 6 of competition, we found out that it's not necessarily partner Sharna Burgess that makes him better — he has a little help from someone else. James Hinchcliffe's alter ego, Ricardo, is the best Dancing With The Stars cast member ever.
For Week 6's Latin Night, all couples were given — obviously — a latin dance. For all of these dances, there's a level of sexiness that must be achieved, and Hinchcliffe said in the pre-dance interview that he never feels like he can turn on the sexy. I get that — if someone told me to act sexy, I don't know what I would do. To overcome his shyness, Hinchcliffe created the character of Ricardo, whom he channels when he really needs to bring it during one of his dances. We even saw a glimpse of Ricardo, and I have to say — that guy knows how to dance. Whatever Ricardo is doing is working to secure Hinchcliffe's stay on Dancing With The Stars for at least the next few weeks.
Hinchcliffe is definitely the dark horse of Dancing With The Stars. Burgess has a talent for breaking down so-so contestants and turning them into champions (or near-champions, as seen with Nick Carter). Forget Ricardo — she is the fuel that lights Hinchcliffe's fire. I'm excited to see what the rest of the competition holds for these two, because I really think they're going to go far, Ricardo or not.
Images: Eric McCandless/ABC