Jana Kramer Heated Up 'DWTS'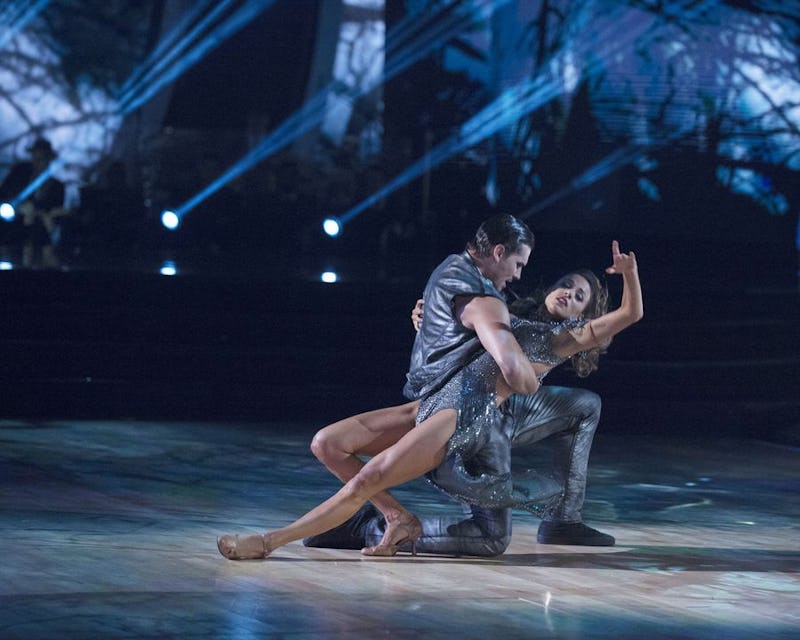 Latin Night is the sexiest dance night of the year on Dancing With The Stars, and this season, the cast members really took it seriously. There was plenty of chemistry between costars, but no one could match that of Jana Kramer and Gleb Savchenko. Jana Kramer earned a perfect score on Dancing With The Stars , and it was all thanks to the sexiest Argentine tango that I've ever seen (and I've seen a lot of Dancing With The Stars).
Kramer and Savchenko turned up the sex factor with their first dance, so we knew they could do it. But I guess I forgot all about Week 1, because Week 6 blew me (and the judges, who gave straight tens for the pair) away. It was an Argentine tango to "Can't Keep My Hands To Myself" by Selena Gomez, and if there's a better modern song to put a tango like this to, I haven't heard it. Kramer was clad in a sexy black lace dress and Savchenko had his shirt open and billow, and then, at the end, they got under a shower and just let the water pour all over them. Judge Bruno Tonioli basically fell over dead and to be revived when they were finished. It was intense. And not only was it hot, but it was also technically great, too.
Kramer has been in the middle of the pack for this season of Dancing With The Stars, and we're in Week 6 — this is where it starts to get interesting. Could she pull away and throw herself into the finals? Maybe. As she told the judges, Kramer really wants to win, and I think she'll try her hardest to make it so.
Images: Eric McCandless/ABC