'Stranger Things' Costume Ideas For Couples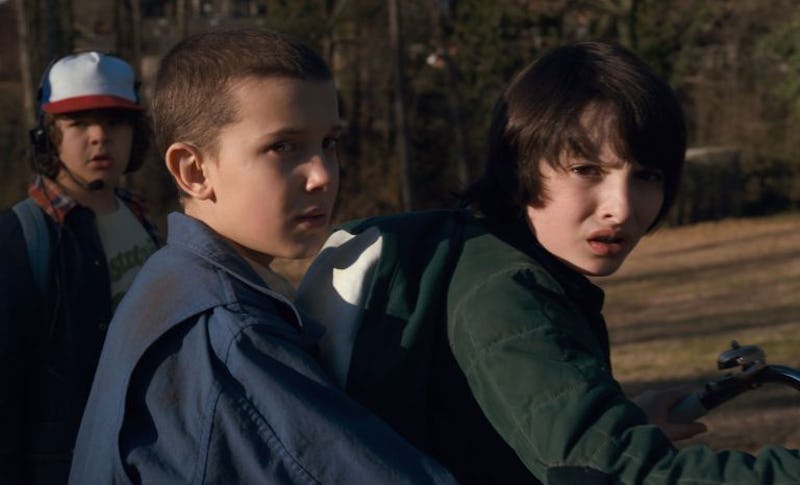 While most of 2016 has been one long nails-on-the-chalkboard screeching nightmare, TV has been a saving grace — and Stranger Things is the one show in particular, that has made this current clustermess of a year seem almost somewhat OK. From the sweet innocence of the characters to the nostalgic simplicity of life in the '80s, Stranger Things is the perfect source for both Halloween costume ideas (especially for couples — a Stranger Things couples costume would surely win you best costume at whatever party you're attending) and sanity — the former because couples costumes don't actually require both people to dress up as people in love, and the latter because it's just a good show. The costumes can be anything from miscellaneous items that pair well together, one human who is oddly attached to an object, two people who are BFFs and put their bond before all else, or just a couple madly in love.
Friendship is ultimately the bedrock of Stranger Things, and it took every character teaming up together in order to destroy the monsters in the Upside Down. But there's so much love between these people that there are plenty of options for couples' costumes. Some are obvious (Nancy and Jonathan), some are not so obvious (Joyce and the wall), but all of them are magnificent. And other fans of the show will appreciate your effort. So here are six Stranger Things -themed couples' costumes for Halloween.
1. Eleven And Eggos
Do not get between this powerful little being and her Eggo waffles. It doesn't matter if they're still frozen, or warm and covered in syrup – Eleven will devour every single one of them. She needs her strength to flip trucks filled with bad guys and make bullies wet their pants in public, after all.
What you'll need:
For Eleven
For Eggos
2. Joyce And The Wall
After her son was abducted, Joyce's main priority was waiting by the phone/wall hoping to receive a message from Will in the Upside Down. She added Christmas lights and letters to the wall for clearer messaging on Will's end, and she marveled every time the lights gave her more hope. I don't think I've ever loved anything more than Joyce loved that wall when it lit up. (Except maybe Will, I guess.)
What you'll need:
For Joyce:
For the wall:
3. Nancy And Barb
Maybe Nancy and Barb weren't in love at the time of Barb's disappearance, but I'd argue that BFF love is stronger than most romantic love. Barb wanted to keep Nancy safe and happy, living sans regret. And then Barb was gone, never to be heard from again. Why not reunite these two besties for Halloween night via costumes and pretend that Barb wasn't taken from us too soon?
What you'll need:
For Nancy:
For Barb:
4. Joyce And Hopper
They have a past, their quest to find Will gave them a present, and hopefully, season 2 will give them a future. They need each other, even if they don't totally realize it yet. Joyce needs someone who has her back, and knows what she has seen. Hopper needs someone who actually cares about him, because he's been lonely and sad for far too long. Ship them by dressing like them!
What you'll need:
For Joyce:
For Hopper:
5. Nancy And Jonathan
Yeah, I refuse to acknowledge that Nancy is still with Steve, because the spark between her and Jonathan is too strong to ignore. They fought the Demogorgon together, and they relied on each other's strength to get through the whole ordeal. That is a partnership. These two need to end up together or nothing in this world is sacred.
What you'll need:
For Nancy:
For Jonathan:
6. Eleven And Mike
The cuteness of a boy falling in love with the strange bald girl who has badass magical powers cannot be denied. Mike was in love with Eleven from the very beginning. She's unique, she's kind, she's loyal, and she's fierce AF. What's not to love? And Eleven, in a world where she can't really trust anyone, found a boy who never gave up on her, kept her hidden from her enemies, and showed her how to be happy again. They are perfect.
What you'll need:
For Eleven:
For Mike: