Easy 'Stranger Things' Halloween Costume Ideas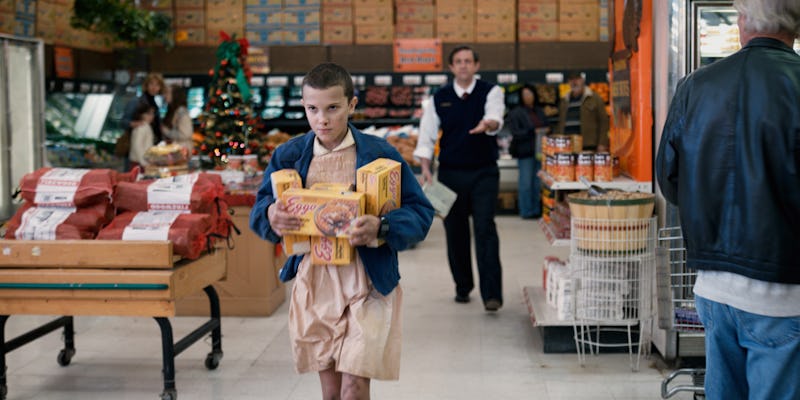 So you thought you had all kinds of time to plan your Halloween costume, and now you have zero minutes left and still want to rock an epic look. It CAN be done. It just so happens that in addition to being the best show ever, Stranger Things can also inspire several easy costume options that are easy, recognizable, and cloaked in badassery. You can go into your closet, pull out a few items, throw them on, and everyone at the Halloween party will be all like, "YAS, BARB'S HEREEEE." (Poor Barb.)
This show just lends itself to killer cosplay. First of all, it takes place in the '80s in a small town, so there are countless functional pieces that match your current cold weather wardrobe. Also, fashion is cyclical (thanking all the Gods) so a lot of those same classic '80s looks are popular again right now. If you don't own something listed below, it will be very easy to track it down. Besides, if you're not much of a planner, then Halloween really shouldn't take several months to plan anyway. You want this night to be enjoyable and not overhyped — and with this show as inspo, that's a difficult balance to strike. So, here are several easy, last-minute Stranger Things costumes that will win Halloween.
1. Eleven
In short, Eleven is a strong gal whose powers are cool AF. She tries to adapt to regular human life, but isn't really sure how — other than obsessing over French fries, ice cream, and Eggo waffles. So, she wears whatever Mike gives her, which ends up being his sister's pink dress, a blue windbreaker, retro tube socks, and white sneakers. Any combination of that plus some fake blood and a calculator watch will make you a dead ringer for Eleven. Bonus points if you shave your head, too.
What You'll Need:
2. Joyce's Wall
Joyce's wall was quite the lovable secondary character in Stranger Things. Of course, this is probably only because Will communicated with Joyce through the letters and lights on the wall — otherwise, it would've just been another wall. The best part about the wall is that it's so easy to create into a costume!
What You'll Need:
3. Barb
Barb was taken from this world way too soon. The worst part is how many of us were waiting the whole season assuming she'd come back, like Will did, only to be disappointed to find her body in slime. So, to pay tribute to the sassy lass we didn't really know at all, dress as Barb.
What You'll Need:
4. Dustin
Dustin is the most hilarious character on this show. He's a loyal friend, he's always hilariously breaking the tension, and he loves pudding. He also has the coolest laid-back style that's simple to recreate.
What You'll Need:
5. Joyce
Joyce is a no-fuss, hardworking mom who DGAF what people think of her. She just wants her beloved son Will to return safely home. She wears minimal makeup, rocks a very easy and low-maintenance hairstyle, and dresses comfortably. If you want to go all out for Joyce, carry around a corded phone at all times. JUST IN CASE WILL CALLS.
What You'll Need:
6. Dungeons And Dragons
This game is central to the story throughout the entire season. The kids use the game to figure out where Will is and how to save him. Any true fan of this show, and this game, will applaud you for repping this classic pastime. Rock the t-shirt and necklace and you'll be the coolest nerd there ever was.
What You'll Need:
Image: Netflix, Polyvore, Amazon