Ariana's Drangerous Woman Tour Merch Is Too Cute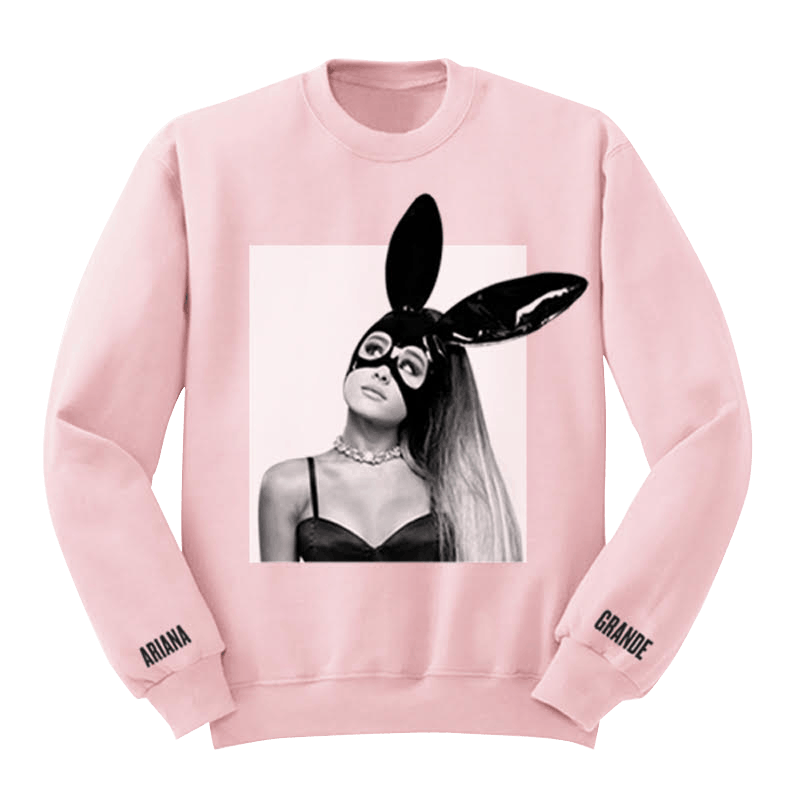 Tour merch is so hawt right now. From Beyonce's Lemonade zipper hoodie to Justin Bieber's Purpose Tour merch, the capsules of which were sold at both Forever 21 and PacSun, fans want to express and display their love for their fave artists on their person. Ariana Grande's Dangerous Woman Tour merch captures the darker, more mysterious essence of the singer's super feminine style, as well as that of her new album Dangerous Woman. The Dangerous Woman clothing items are certainly worth the spend, since they are stylish, you can wear them over and over, and they proudly tout your Ariana-loving status. How much is Ariana Grande's Dangerous Woman tour merch?
Tees start at $30, with sweatshirts setting you back by $60. There are many options that will allow you to get your Ariana Grande on.... quite literally.
The singer has been wearing the merch on her personal Instagram, pairing the white tee with jeans and stiletto booties, looking sexy AF. The Dangerous Woman Tour kicks off in 2017 but Grande has already taken to promoting the trek heavily via branded fashions. She is certainly creating a connection between her style and her upcoming tour, leading to recognition.
Let's have a look at the Grande x Dangerous Woman Tour gear.
Crew Neck Sweatshirt, $60, Ariana Grande Shop
This powder puff pink top with branded cuffs and the image of Grande-in-bunny-ears is delish and devilish.
Zero Effs Crew New Sweatshirt, $60, Ariana Grande Shop
This sweatshirt is adorably naughty and best suited for Grande fans over the age of 18.
Long Sleeve Tee, $45, Ariana Grande Shop
You can show off your Arianator status with this tee with long sleeves in any season.
Tour Tee, $30, Ariana Grande Shop
All Arianators can wear this black tour tee, featuring her now-iconic, glossy bunny ears.
The pieces aren't cheap. But if you love Grande, they are so worth the spend. They are also unisex fits, so all Arianators can shop these shirts.
Grande rocked her own image and likeness.
She also slayed some seriously '80s, acid-wash jeans. Those heels, though! They pair perfectly with the graphics on the self-referencing shirt.
There is even more Ariana Grande Dangerous Woman merch, including chokers and shirts in other colors.
Images: Courtesy of Ariana Grande Shop (4); Ariana Grande/Instagram (2)