Why These Adult Sites Are Going Dark In California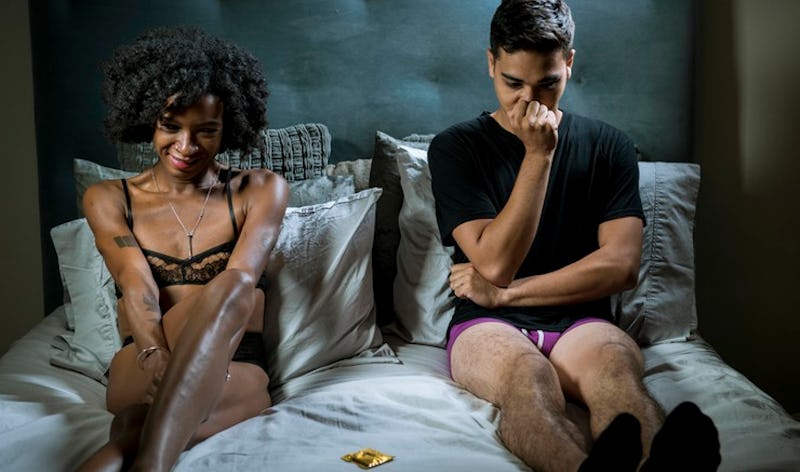 Californians who like to watch porn may be in a bit of a pickle, with a lot of porn sites going dark in protest of Proposition 60 — a state bill that mandates condom use in porn produced and distributed in California. Evil Angel, Vivid Video, Pink & White Productions, and Kink are among those who are blocking access from IPs in California. Evil Angel's site reads: "We know you don't want to see condoms in Evil Angel videos, so we're doing what we can to prevent that from happening. We also need you to do your part." Some even imply that they may remove porn permanently for California residents if the bill passes.
Now, condoms are fundamentally good, so what's the problem with using them in porn? Well, some people don't like the look of them, which I don't think is a good enough reason. But the other arguments are perhaps more convincing. "We took the site dark because we wanted to draw attention to the fight performers are waging against Proposition 60," Michael Stabile, spokesperson for Kink, tells Bustle. "Prop 60 would give any resident of the California — anyone with a laptop who views an adult movie — the power to sue performers if a condom isn't visible. If Prop 60 were to pass, we and many other companies would just begin blocking California IP addresses, rather than leave our workers open to harassment and a flood of litigation."
The other problem is that it could potentially create less safe porn. "Prop 60 would drive production in California — a place with the highest workplace protections for performers — underground or out of state, where they would be less safe," Stabile says. "Production at Kink has been condom-optional for over a decade. Some of our performers always use condoms, some never do, relying on the two-week testing protocol that has stopped HIV from being transmitted on a regulated adult set for over 12 years. But we believe the choice should always be that of the performer."
But What Message Does This Send Viewers?
On the other hand, condoms obviously promote (and provide) safe sex. And there has been research that suggests seeing porn without condoms makes you more likely to have unsafe sex yourself, while condoms might encourage safe sex. That's a massive thing. Research in the PLOS One Journal by Dr, Eric Schrimshaw from Columbia University's Mailman School of Public Health and Dr Martin J. Downing, Jr. from the Public Health Solution found this to be the case. "We suspect, and our findings suggest, that viewing condoms in pornography leads viewers to have fantasies where condoms are used and reinforces condom use as normative behavior," Scrimshaw tells Bustle.
Whatever your take on the issue is, it's clearly getting people riled up on both sides. And, luckily for those in California, there are a lot of places to find porn. We'll just have to see what happens on November 8 to see how many are still available.
Images: Andrew Zaeh/Bustle