Khloé's Good American Jeans Belong In Your Closet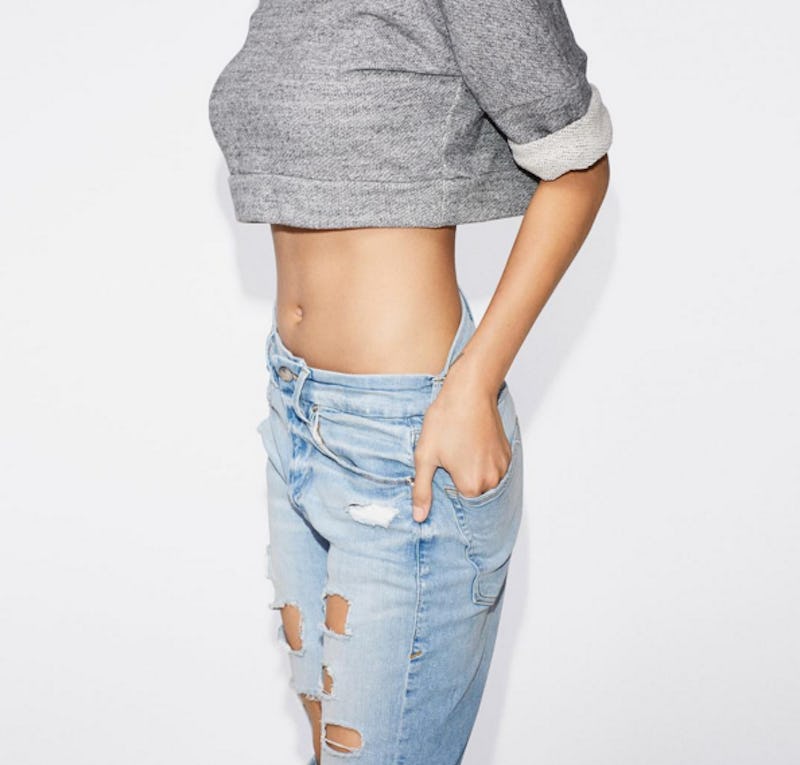 After much teasing online, Khloé Kardashian's jean line has finally launched. The sneak peeks had me convinced that her denim pieces were going to be pretty amazing, and by the looks of it my gut feeling was right. How much is the Good American collection? Prices are available online, and these numbers are all you'll need to see to be convinced to make a purchase.
OK, so the line's not exactly cheap, but these pieces are reasonably affordable. Besides, these Kardashian-designed jeans are proving to be worth the money. There are 19 different styles to choose from including high-waisted and slim fit, offered in a variety of different distress levels and washes. They range in price from $149 to $215, and trust me, these pants are worth the splurge.
The collection has a wide variety of sizes to choose from, too, just as it promised it would. You can shop sizes 0-24. The bottoms are still in stock, but you better head over to the Good American website as well as Nordstrom retailers to make a purchase sooner rather than later. I have a feeling that, much like everything the Kardashians create, this is going to be very popular. Get to shopping before your favorite options have sold out. Good American is here, so it's bound to be a good day for your closet!
Good American Denim Line, Nordstrom
The day to shop this brand has finally come.
If the styles weren't enough to get you excited, the size range definitely will be.
Because good jeans should be for everyone.
These pieces are sure to amp up your fall style in a major way.
Good Legs Black 001 , $149, Nordstrom
A pair of simple black jeans will run you $149.
Good Legs Blue 003, $189, Nordstrom
The more distressing you add, the more the price goes up.
Good Cuts Blue 015, $215, Good American
I mean, who can say no to a destroyed denim?
Good Cuts Blue 011, $205, Nordstrom
You can choose between holes and fraying, or get a little bit of both.
Good Waist Blue 013, $169, Good American
But, for when just a plain high-waisted jean will do, there's a great option for that, too.
Have that wallet handy because it's going to be hard to resist making a purchase. You just can't beat great denim, and that's exactly what Kardashian is serving up!
Images: goodamerican/Instagram (1) Courtesy Good American (5)