See Swatches Of Morphe x KathleenLights Shadows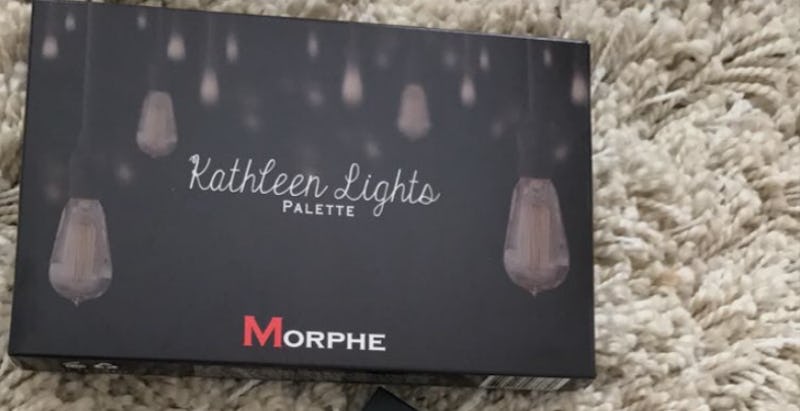 In case you missed the exciting news, Kathleen Fuentes, AKA KathleenLights, and Morphe have joined forces in the name of makeup. The two have created a gorgeous eyeshadow palette together that gives you everything you could possibly need in an eye kit. Don't believe me? After seeing swatches of the Morphe x KathleenLights Palette, you'll see exactly what I mean.
There's been tons of eyeshadow palettes out there recently, but this one's a little different than the rest. Instead of sticking to a warm or cool toned palette, the Morphe x KathleenLights Palette is a combination of both. It's also a mixture of new and old Morphe shadows as well. Basically, it's the best of both worlds.
The 15 shades range from classic staples, like a buildable matte black, to pops of color, like the bright shimmery green. According to her Snapchat, Fuentes wanted it to be her perfect grab-and-go palette for any eye look. Not all the details have been announced yet, but I can tell you when to mark your calendar. The Morphe x KathleenLights Palette is available on the Morphe site on Oct. 25. You don't have much long to wait, people! Until then, here are some swatches to hold you over.
The top row is dedicate to five stunning neutrals. From a bone white to set your lid with to a gorgeous golden shimmer shade to highlight, you can't ask for better subtle hues.
Next comes the warm tones. I don't know about you, but that red toned colors is seriously calling my name. Not to mention how the shimmers would instantly make any look pop.
Last, but definitely not least is the bottom row. It's made up of a staples and a few pops of color. Just looks at that green shade shine!
This is a limited-edition palette, so make sure to grab one while you can!
Images: Kathizzle11/Snapchat (4)