Jess Is Digging Her Own Grave On 'New Girl'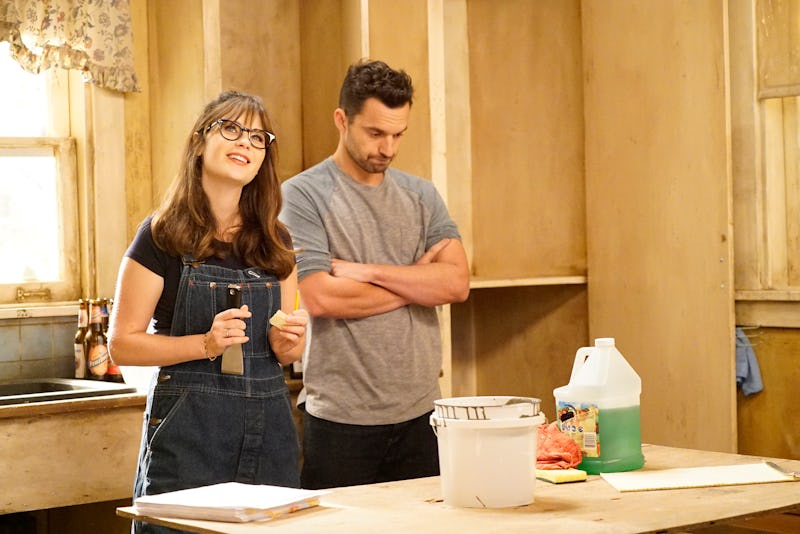 As a diehard Nick and Jess fan until I die, I was totally thrilled when Jess realized her feelings for him are still there on New Girl last season. Not so thrilled that Reagan's back in the picture, making things look totally impossible for a future where Jess and Nick are together, but who doesn't love a little relationship conflict? And now, it seems like there's going to be plenty of that, especially since Jess is bound and determined to be a good friend to him. On Tuesday night's new episode of New Girl , Nick wants Reagan to move into the loft, and Jess does everything in her power to make it happen — even if it's totally going to break her heart.
Basically, the conversation starts when Nick, Jess, and Winston realize they're going to need a fourth roommate to help with the bills once CeCe and Schmidt move out after their house is fully renovated. Now that Reagan is planning to move back to LA, she seems like the perfect fit, so they hold a vote. Jess then proceeds to spend the rest of the episode convincing her roommates that it's a good idea, even though she very clearly does not want any part of it. It involves Nick promising to let Schmidt buy him a new pair of jeans which he then has to model as he walks down a staircase — something I am really, really hoping makes it into the show.
In the end, it turns out that the only one still voting no is CeCe, who wants to protect Jess from how painful Reagan moving in is going to be. She eventually relents, letting Jess make her own (bad) decisions, but makes Nick promise no PDA will happen. Yeah, we could all use a friend like Jess who will bend over backwards to make us happy, even when what she's doing doesn't make her happy. But really, I want a friend like CeCe, and I do not want a friend like Nick, who thinks it's cool to move his new girlfriend in with his ex girlfriend. I get that these people are close, but what?! Who does that?!
When Megan Fox's character was first announced last year, I had a feeling she was going to shake things up — but not like this. Reagan has lived in the loft before, but not while Jess lived there too. It's definitely going to be interesting to see them interact, and with Jess' feelings for Nick, disaster will inevitably ensue. Maybe this obstacle will lead to Jess and Nick living happily ever after? A girl can dream.
Images: Ray Mickshaw/Fox, Giphy