Twitter's All About Morphe x KathleenLights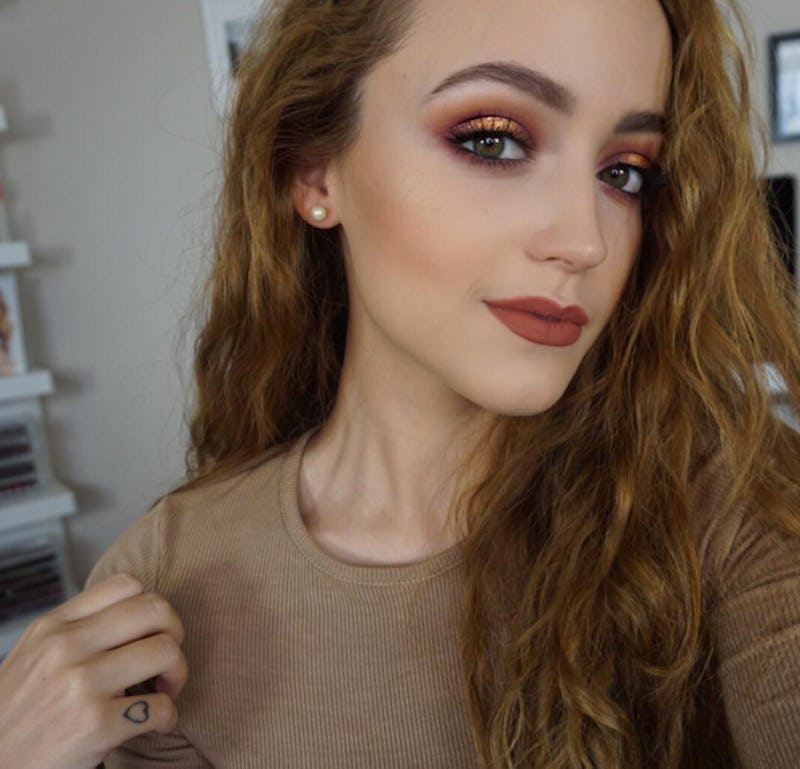 When it comes to creating wearable makeup, this beauty vlogger has proven she really knows what she's doing. With several collabs under her belt, it's no wonder that she's gotten this whole creating shades thing down. The Twitter reactions to the Morphe x KathleenLights Palette prove that she has indeed done it again. Because these eyeshadows are the only things you're going to want to wear. all. fall. long.
She is the queen of warm colors, and this palette is a testament to that. She's filled the products with shades she loves to wear, and I have a feeling you're going to love to wear them, too. Not all of the shadows are exclusive to the palette, some can be found on sale on the Morphe website, but she did get the chance to customize a few of the them on her own. Whether you're a Morphe fan, a KathleenLights fan or both, there's a lot to look forward to with this latest collab.
According to her Snapchat, the palette will launch on Oct. 25. An exact price has yet to be announced, but she assures fans that it will be affordable. So, it's really no wonder people are freaking out over this product.
The top row is full of great shimmers and highlights.
These warm neutral shades are sure to be your go-tos.
A pop of green color will add so much fun to your makeup look.
Bascially, you're going to want to add this to your collection, ASAP.
Just imagine all of the incredible fall beauty moments you'll have with colors like these on-hand.
1. Coming For Ya
Look out, Morphe website, people are coming for these shades.
2. Impatiently Waiting
Oh, the countdown to Oct. 25 is on!
3. Must-Have
There's no denying it. You've got to buy this.
4. Too Pretty
These colors are far too beautiful to pass up.
5. Need
Go ahead and consider this a necessity.
6. So Many Beauty Buys
Fall is a great time of the year for your beauty collection, indeed.
7. Tutorial
People are already requesting tutorials. Gotta know exactly how to wear these stunning hues.
8. You're Mine
Morphe x KathleenLights Palette, consider yourself taken.
9. Waiting Game
Plan your purchases strategically. You're not going to want to spend all of your money before Oct. 25.
10. So Excited
Can it be time for this launch, already?
11. Will Go Broke For Makeup
You gotta do what you gotta do, you know?
Images: kathleenlights/Instagram (1); kathlizzle11/Snapchat (4)