Why 'Crazy Ex' Should Keep Josh & Rebecca Apart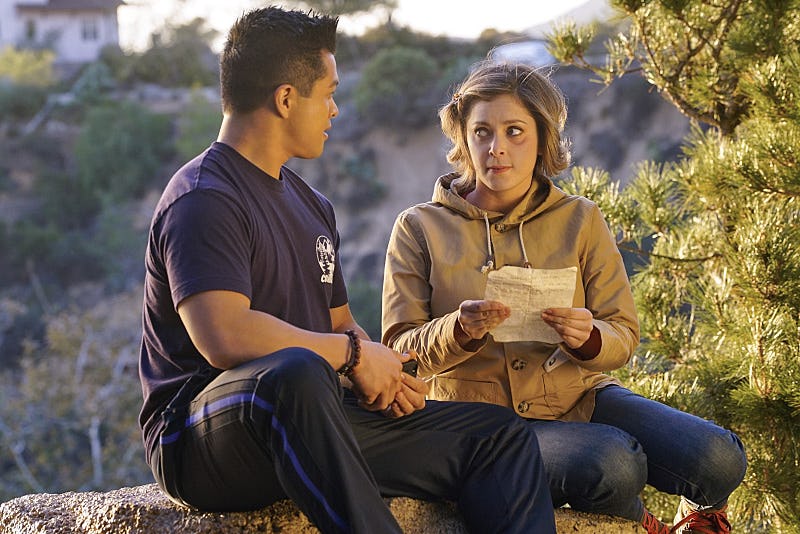 In the final moments of Crazy Ex-Girlfriend Season 1, Rebecca's season-long dream of being romantic with Josh came true as they shared a magical make-out session. With Season 2 of The CW show premiering on Friday, Oct. 21 at 9 p.m., should Rebecca date Josh on Crazy Ex-Girlfriend? While she's certainly convinced she should be with Josh, as Season 1 proved time and time again, Rebecca doesn't always know what's best for her. Considering how little she progressed emotionally throughout Season 1 — I might even go as far as to say she regressed emotionally — there's no way I could write in good conscience that Rebecca should date Josh in Season 2 or frankly, ever.
Full disclosure: If I want Rebecca to be with anyone, I think she should be with Greg, no question. However, it's pretty clear that Rebecca shouldn't be dating anyone right now — Greg or Josh. Her infatuation with Josh is based on the delusion that her boyfriend from her teenage years will bring her all the happiness that spreadable butter can give. While a good relationship can bring happiness, that's not actually Rebecca's core problem. She is seeking her ideal version of Josh to bring her joy when she really needs to get back on her medication, see her therapist, and do some serious self-reflection to help manage her anxiety and depression.
Rebecca has a tendency to act out when something doesn't work out the way she planned it. And when Greg let his own hang-ups sabotage his relationship with Rebecca at Josh's sister's wedding in the Season 1 finale, it became the perfect opportunity for Rebecca to actualize her "feelings" for Josh — especially since he had decided to end things with Valencia. (I put "feelings" in quotes because while Rebecca "loves" Josh for his positive energy, I think her feelings are subconsciously disingenuous.) Leaving the wedding with Josh was the fairy tale she had dreamed of since she was a child, but when you're in a healthy frame of mind, you know fairy tale endings aren't real. And if she was in a healthy mindset, she'd also know that being with Josh won't solve anything even if it feels good to get mixed up in the romance of it all — I mean, who doesn't get all starry-eyed when Lea Salonga sings?
Rebecca equates happiness with Josh since the last time she was truly happy was at summer camp where she dated him. But even though Josh might not have changed much (or matured much) since those summer camp days, trying to recreate your past is no way to ensure a healthy future. And seriously, who in the world wants to go back to being a teenager?! You had a retainer back then, Rebecca!
Even though Rebecca being so dysfunctional is oftentimes hilarious and relatable (for any of my fellow neurotic women out there), any fan of Rebecca Bunch knows she deserves better than Josh. While his naivety might make him seem like a puppy that will bring her joy, he wouldn't challenge the outrageously smart, witty, and overachieving Rebecca. The only good thing that could come from Rebecca dating Josh is that it might make her realize she has been chasing a dream of what she believes would make her happy. But, since this is a TV series and all, I'm going to assume it's going to take her quite some more time to figure all that out and I don't necessarily want her dating Josh during that process.
While I anticipate that Rebecca and Josh will date in some capacity in Season 2, this debate on whether or not she should date Josh could be for naught since he looked understandably horrified when he discovered that Rebecca moved to West Covina for him in the Season 1 finale. Rebecca was lying to herself and Josh throughout Season 1 and since honesty is the key and all to a healthy relationship, they're already off to a bad start. Plus, when Paula even starts to doubt whether or not Rebecca and Josh should be together (like in the below clip from Season 2), then you know it's a bad idea. And let's just note how hung up Rebecca obviously is on Greg too in the clip.
As fun as it is to 'ship characters on TV, Rebecca needs to focus on herself first. That doesn't mean that Rebecca won't continue to make unhealthy decisions in life and love in Season 2 (knowing that this is a fictional show, I'd be disappointed if she didn't), but as Crazy Ex-Girlfriend co-creator Aline Brosh McKenna told Vanity Fair after the Season 1 finale, "No boy is an answer to the problems that she has." And sorry Josh Chan, but that includes you.
Images: Greg Gayne, Scott Everett White/The CW, The CW