'Bach' Star Lauren Is A True Prankster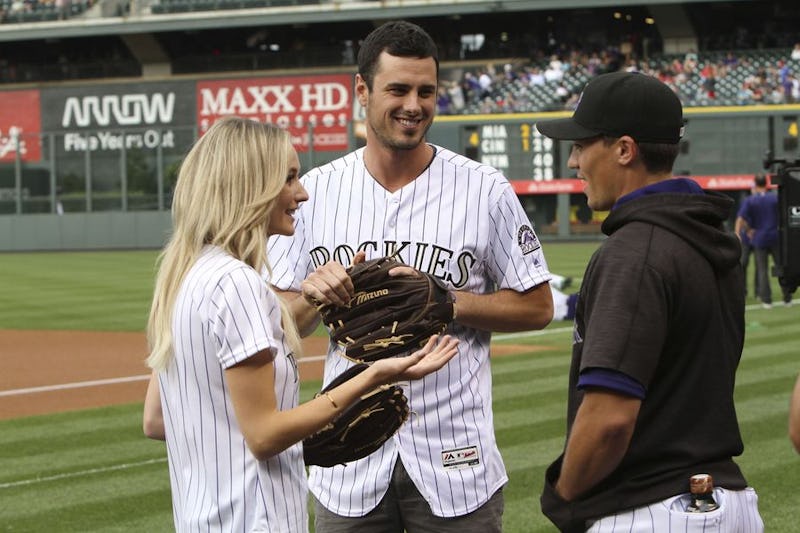 Now that Ben and Lauren have had some time away from The Bachelor cameras, we're starting to see a new side of them on Ben & Lauren: Happily Ever After. Namely, we're starting to see what a savage prankster (and I mean that in a good way) Lauren is. The way Lauren pranks Ben on Ben & Lauren: Happily Ever After is total relationship goals, and Ben is such a good sport.
Ben and Lauren are basically the inverse of Jessica Simpson and Nick Lachey on Newlyweds — Lauren is way smarter than we ever got to see on The Bachelor, and Ben is far more gullible. Still, they're a nice pairing. But Lauren loves to play tricks on Ben, from filling his Oreo cookies with toothpaste instead of the cream filling, rigging the sink so the sprayer hits him right in the crotch when he turns on the water, and, as her piece de resistance, making Ben believe that he was going to sing the national anthem at a Colorado Rockies baseball game. Game recognizes game, Lauren. Ben was only supposed to throw out the first pitch, but Lauren had someone from the Rockies call and make him believe he was singing, too. Boy, did that guy practice, and suffice it to say that he has a terrible singing voice. Lauren had him going up until the minute that the national anthem was supposed to hit the field, and she only felt a teeny bit bad about it. You go, girl.
It says a lot about Ben and Lauren's relationship that they can play tricks on each other like this — they trust each other, and they're certainly not afraid of feelings getting hurt. That's important in a partner — it means you can be really honest with each other and eventually still get over it. If Ben & Lauren: Happily Ever After is just Lauren pranking Ben for 12 episodes, I will gladly tune in.
Images: Adam Larkey/FreeForm; Giphy