Here's Where To Get Pat McGrath's New Innovation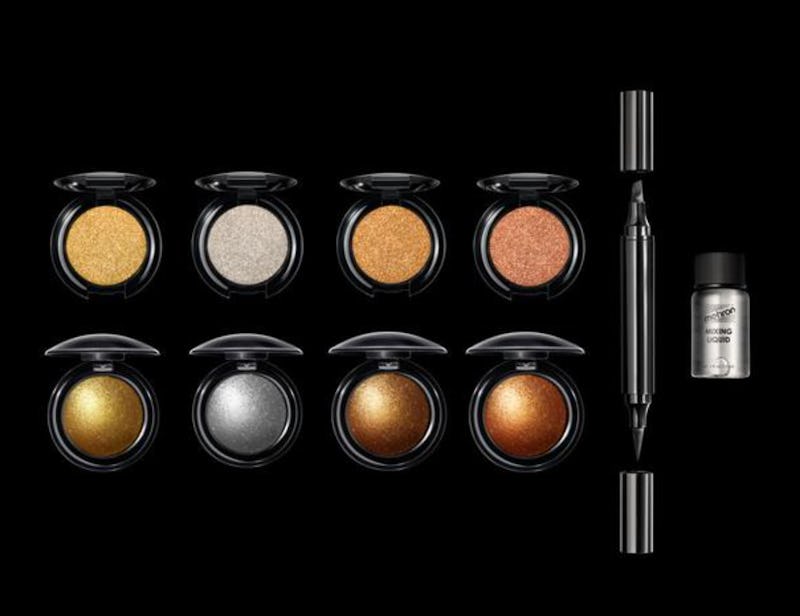 There's a lot of golden goodness and metallic magic in your future. It's a product innovation and #ByeMoney moment courtesy of a makeup luminary. Pat McGrath's Metalmorphosis 005 Kit is a metallic eyeshadow and liner collection available in several configurations. McGrath and her team had been teasing gold-dipped lips and lids on her official Instagram for weeks now. So this comes as no surprise to those who've been paying attention and trolling her feed. The Metalmorphosis 005 Kit includes McGrath's OG Gold 001 shadow, as well four pigments, four creams, a dual-ended, black eyeliner, and Mehron mixing liquid, which will to turn the pigments into liquid. There is the Everything Kit, which includes all 10 pieces, along with four, smaller color story kits, featuring a pigment, a cream, the liner, and the Mehron mixing liquid.
Got all that?
Where can you buy the Pat McGrath Metalmorphosis 005 Kits and when? These exclusive kits will be available via McGrath's official site on Tuesday, Nov. 15. The Metalmorphosis Kits will then be sold at Sephora stores and Sephora's site a week later on Tuesday, Nov. 22.
Metalmorphosis 005 Everything Ki t, $165, Sephora
Let's pause not for station identification but to allow you time to program a reminder and alarm in your mobile phone so you don't miss this massive launch.
There it is! Gold glitter, gold shadow, and more.
Gilded and platinum eyes are all yours, thanks to Pat McGrath. The Kits are certainly prestige, so the prices are commensurate with that status.
Metalmorphosis 005 Everything Ki t, $165, Sephora
The Everything Kit contains, well, everything in the collection and costs a cool $165.
Metalmorphosis 005 Kit, $60, Sephora
Then there are the smaller kits, which are $60 and boast four pieces. This is Gold.
Metalmorphosis 005 Kit, $60, Sephora
This is Silver and it's a mega metallic.
Bronzed eyes are always in style.
Copper is cool AF, too.
The Pat McGrath eyeliner marker, which has an angled brush on one end and a long, calligraphy tip on the other, is also available for $24.
Bookmark the Pat McGrath site and be online to shop on Nov. 15. Or wait a week for the Metalmorphosis collection to cruise into Sephora outposts.
Images: Pat McGrath/Instagram (2); Courtesy of Pat McGrath (5)