Pat McGrath Is Teasing Gold Lips & Eyes, So...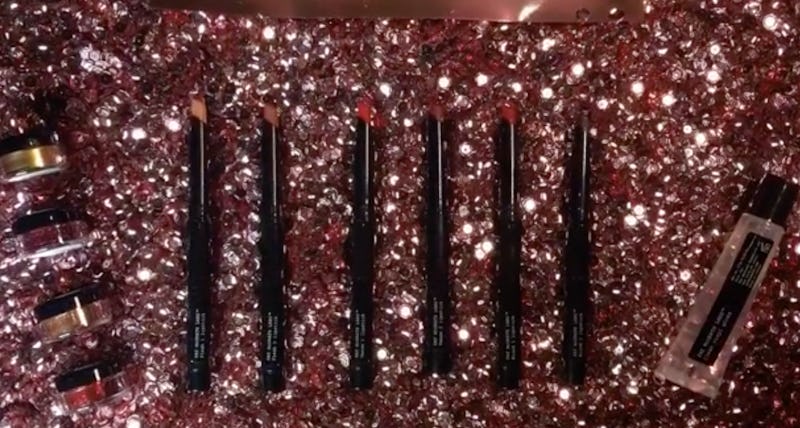 There's no workaround here. Makeup artist Pat McGrath is a visionary and an artiste. I have a question and it's one that is likely living in the minds of McGrath's devoted fans who follow her social posts. Is Pat McGrath doing a gold liquid lipstick? Or a liquid gold multi-use... product? Or a gold-themed makeup collection? The Pat McGrath Instagram feed has featured gold-dipped lips as of late, dropping many hints, which are major. The captions have read as such: "Stay tuned... SOMETHING IS COMING."
Let's backtrack a little. McGrath has been parsing out products from her eponymous line in slow, steady, measured, and methodical fashion, starting with her Gold 001 pigment. She followed with the Phantom 002 offering. The Skin Fetish 003 highlighting kits offered makeupistas the chance to emulate the signature, ethereal glow McGrath is known for creating. Additionally, McGrath's Lust 004 Lip Kits sold out on the quick earlier this summer. I managed to snag one of those coveted matte x glitter lip sets, which require a little practice.
Lately, though, the official Pat McGrath Instagram (or its team!) has been teasing liquid gold lips and gold eyes. I'm talking drenched in gold pouts and gold-highlighted and lined eyes. It's the return of the gorgeous, gilded age... at least via social media.
Bear witness.
McGrath may very well be launching an entire gold-themed makeup range, if this tweet is any indication. Her team legit has been teasing that "Something is coming" for several weeks now. Bustle reached out to the Pat McGrath team to inquire about further details about these hints.
This image is becoming familiar across Pat McGrath socials. I am picking up what they are putting down — something is coming from Pat McGrath and it may very well be gold liquid thing that serves many purposes. I'm impatient... but I'm in.
McGrath's work with runway models for fashion shows is legendary and she is working diligently to translate that usually-reserved-for-backstage aesthetic from the editorial page to IRL.
ICYMI: The Lust 004 kits were a major lip innovation, with microfine glitter, gold pigment, matte lippies, and super wet-look gloss.
Images: Pat McGrath/Instagram (1)