SmartGlamour Just Released Size Inclusive Lingerie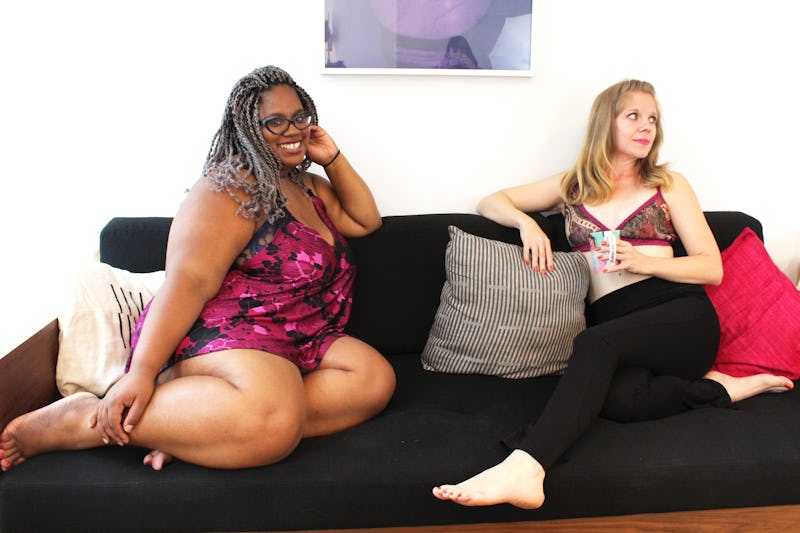 It's hard to find a brand that says it includes all sizes (and really means it), but it's safe to say New York-based clothing company SmartGlamour truly is all about inclusivity. After 13 clothing collections, including bridal and swimwear, the brand is now branching out with SmartGlamour's first underwear and loungewear line. Just like the rest of SmartGlamour's pieces, the lingerie and loungewear comes in sizes XXS - 6X and beyond, with customizable options available for anyone who wants them.
Although the store only stocked clothing items in the past, owner and designer Mallorie Dunn felt it was time to venture into intimates and loungewear to give her customers the experience of being dressed in customizable clothing in their size from head to toe. Dunn tells Bustle via email that her decision to introduce bralettes, underwear and loungewear came from not finding much available during her own searches for these items.
"I realized, in my own search for ethical bralettes and loungewear, that there was a huge gap in the industry. Many ethical companies I found didn't cater to individuals of all sizes, and many of them were far too expensive for the average person's budget." She says, "With this in mind, I set out with the SmartGlamour motto in mind — Fashion For All — to create beautiful loungewear anyone could enjoy, and that anyone could feel sexy in, on their own terms."
Split Side Pajama Top, $35, smartglamour.com / Faux Wrap Romper, $50, smartglamour.com
As always, the collection is available in any size and totally customizable. The shoot for the new line featured a wide range of models of different sizes, ethnicities and ages. Plus, in keeping with the brands body positive message, no Photoshop was used on the campaign images — in fact, Dunn promises that it never will be.
Cupped Bralette, $50, smartglamour.com / Drawstring Pajama Short, $35, smartglamour.com
There are 13 items in the line, ranging from sexy bralettes, comfy pajama tops to basic undergarments. Dunn promises, these garments and this photoshoot was done for the feminine individuals who will wear these garments, instead of "catering to the male gaze." To try and make the collection empowering rather than sexualized — as underwear campaigns often are — SmartGlamour's models posed unprovocatively. Instead of striking seductive poses, the images showcase the models simply spending time with each other and lounging, unburdened by worry about how they look.
Off The Shoulder Pajama Top, $35, smartglamour.com / Lace Bandeau, $20, smartglamour.com / High Waist Legging, $35, smartglamour.com
Items start at $15 and go up to $50 for more intricate pieces, making it on the affordable end of the lingerie price spectrum. This isn't the first time that SmartGlamour has led the way on how to create and sell items with body positivity and inclusivity in mind and hopefully, it won't be the last.
Images: Courtesy of SmartGlamour