We're Getting A New 'Willy Wonka' Film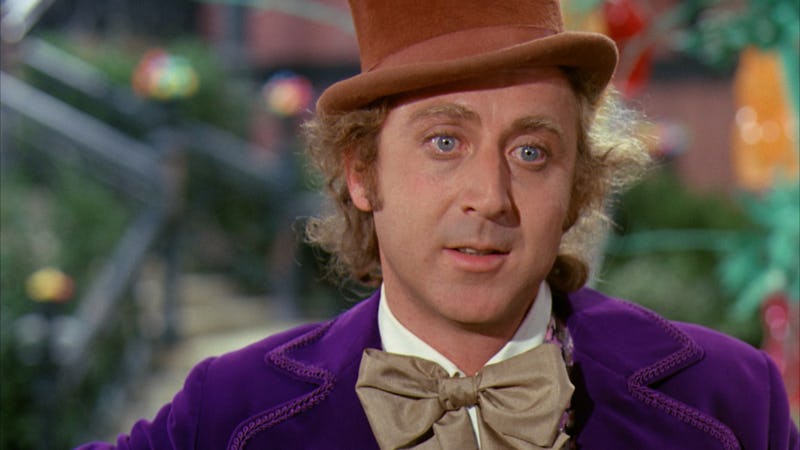 Warner Bros. and producer David Heyman (the man behind the Harry Potter films and Fantastic Beasts & Where to Find Them) are joining forces to revamp a Gene Wilder classic. According to Variety, the studio has been awarded the intellectual property rights to "Willy Wonka." Meaning, just months after the original Wonka's death, there's a Willy Wonka film in the works. Come with me, and you'll be in a world of "whoa, this sounds like a massive undertaking." Simon Rich (The Secret Life of Pets, Man Seeking Woman) will be penning the script, and, as of right now, there's no director or Wonka attached to the project. Wait, no Wonka? Who's going to play Roald Dahl's purple blazer wearing, candy maker?
Someone a bit younger, for starters. The film will be "a standalone movie focused on Wonka and his early adventures. It's unknown who from the original book series, other than Wonka, will be involved in the project." It's hard to imagine Willy Wonka being anyone but Gene Wilder (not even Johnny Depp could totally nail the character like he could). Wilder was a genius, a legend of comedic timing and controlled hysteria. He's not really replaceable. That being said, this quasi-prequel sounds different enough to give the new Wonka some space to be different, too.
Hold your breath. Make a wish. Count to three. And check out some possible Willy Wonka actor options, below.
1. Donald Glover
Remember when there was a petition for Donald Glover to play Spider Man? He might have not gotten that role, but, with his devious grin and technological mastery of physical comedy, wouldn't he make a pretty dope Wonka? Come on. Think about it.
2. Finn Jones
While comedy might not necessarily be in his repertoire (Game of Thrones is shockingly not that funny), he has a young Wilder thing going for him and lots of promise. His starring role in the upcoming Iron Fist Netflix series will determine whether or not Jones is an actor with some levity — and whether or not he can carry a story all on his own.
3. Joseph Gordon-Levitt
This could seem like an odd choice at first glance, but, when you consider the affect Gordon-Levitt was able to don for his role as Edward Snowden, it becomes clear that this guy can take on anything.
4. Riz Ahmed
Ahmed was a force to be reckoned with in HBO's The Night Of. He has a role in the upcoming Star Wars film, Rogue One, which will launch his career even further. He hasn't proved his comedic abilities with a wide audience just yet, but he would be a compelling choice as Wonka.
5. Anna Kendrick
Why can't Wonka be a woman? Anna Kendrick's got the talent. She's got the comedic sensibilities. She's even got an incredible voice for the songs. Let's make this happen, Hollywood.
6. Emma Stone
Like Kendrick, Stone is hilarious, talented, and can sing. She'd knock this out of the Chocolate factory park. (That's a thing.)
7. Bo Burnham
Though he's not a film actor, Bo Burnham's stand up act always has an undercurrent of madness. He'd be able to nail Wilder's controlled hysteria.
8. Eddie Redmayne
Redmayne has proved himself worthy of complex characters in a variety of roles. Given the fact that he's starring in the producer's other film (Fantastic Beasts), he could be a real contender.
Regardless of who gets cast, Wilder's iconic performance will live on in the next Wonka, and for many more Wonkas to come.
Images: Paramount Pictures