Lady Gaga's 'Joanne' Is Better Than 'Artpop'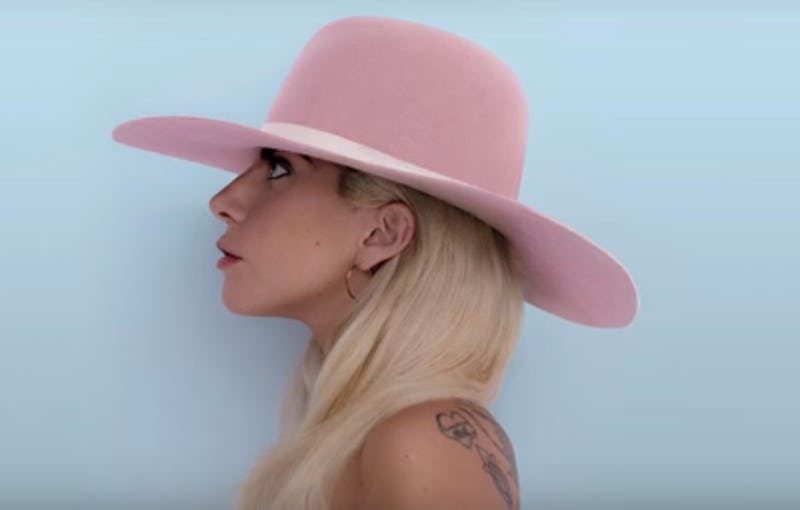 Four years ago, when Lady Gaga was in the process of putting the finishing touches to her third album, the star mentioned to MTV News that she felt as though there was a "tremendous lack of maturity or sense of responsibility" to Artpop, as it would become known. What was clear was that this wasn't a self-deprecating or negative statement concerning the direction that the album had gone in, but a proud commendation. Artpop was Gaga's Peter Pan, and it thrived from that carefree sense of immaturity. And now, with the release of Gaga's new album, Joanne, it would appear that the musician has headed in a completely parallel direction, showing maturity, thoughtful reflection, and a definite sense of responsibility. And Joanne is much better than Artpop for having embraced these qualities.
That's not to say that there isn't a place in my heart for Artpop, because there definitely is. I mean, who doesn't want to escape into the carefree Neverland of an album like that, which is so deliberately full of pulsating, raucous fun? But that's a tough persona to maintain forever, and we all have to grow up sometime. At some stage, the need for party anthems and dress-up soundtracks becomes far less than the need for music that can, in some way, resonate with you on an emotional level. And that's exactly what Joanne does.
While Artpop felt deliberate in how fantastical and buoyantly unreal it's heavily produced approach was, Joanne feels like a deliberate attempt to progress beyond that. The album proudly bares it's emotional cornerstones and dares you to touch them, providing what it is undoubtedly a bold, biographical album by a woman formerly better known for being something of a chameleon and an enigma.
Whether she's exploring the fresh wounds of a failed relationship (as on "Million Reasons" or "Dancin' In Circles"), the powerful parameters of her female friendships ("Hey Girl" and "Grigio Girls"), or the harrowing injustices of life and society ("Joanne" and "Angel Down"), Gaga is candid and raw. She's thrown off the musical and literal costumes that epitomized The Fame, Born This Way and Artpop, to reveal herself in as intimate a way as possible. And what feels clear from many songs on the album is how liberating this decision may have been.
Because at the heart of Joanne is an ongoing theme of striving for freedom and liberation (which is pretty fitting for an album full of songs inspired by Americana). Be it freedom from a broken heart, a bad relationship, the burden of sin or sickness or the empowering expression of sexual freedom, Gaga establishes how important freedom is to personal well-being and growth.
Not only does Joanne contain this idea as a continual theme, but it also embodies this idea in regards to Gaga's career. This is an album in which she is embracing liberation of the self, and expression of it, and in which we can clearly hear her grow as an artist. What's perhaps most interesting about this idea is that it seems as though Gaga has been considering it since the creation of Artpop. In an interview with The Guardian in 2013, the pop star described how her metamorphic physical appearance brought her to a startling realization about personal growth:
For Artpop, I, in the most metaphorical explanation, stood in front of a mirror and I took off the wig and I took off the makeup and I unzipped the outfit and I put a black cap on my head and I covered my body in a black catsuit and I looked in the mirror and I said: 'OK, now you need to show them you can be brilliant without that.' And that's what Artpop is all about. Because I knew that if I wanted to grow, if I really wanted to innovate from the inside, I had to do something that was almost impossible for me.
And though with Artpop it still seemed as though Gaga was showing us her brilliance along with an endless array of aesthetic eccentricities, Joanne definitely provides brilliance without the added bells and whistles of costuming and high-concept visuals. Instead, we're witnessing a musician innovating "from the inside," dispensing with the crutch of visual expression and instead allowing for the music to be purged directly from the self.
While it may still appear that Gaga is operating under the careful guise of a persona on the album (as she recently told the New York Times, she considers that her whole "life is a theatre piece"), the end result feels authentic and substantial. Joanne is proof that, in order for pop music to remain relevant, it has to at some point possess some self-reflection and progress beyond being merely a soundtrack for a big persona and an eye-catching aesthetic.
And though there's freedom in the immaturity of abandoning responsibility, living in blissful personal ignorance, not giving too much of yourself to anyone, and just having fun all the time (like on Artpop), Joanne proves there's also freedom to be found in the opposite. Of acknowledging your responsibilities, of embracing your true self, and of expressing all of the triumphant, terrifying, painful, and proud feelings that are hiding in there.
For the first time in her career, Gaga is delivering those sentiments in a voice that is far louder than her persona. And that's a powerful progression that I think we can all admire and take influence from.
Images: LadygagaVEVO/YouTube; Giphy