'The Good Place' & 'Parks And Rec' Collide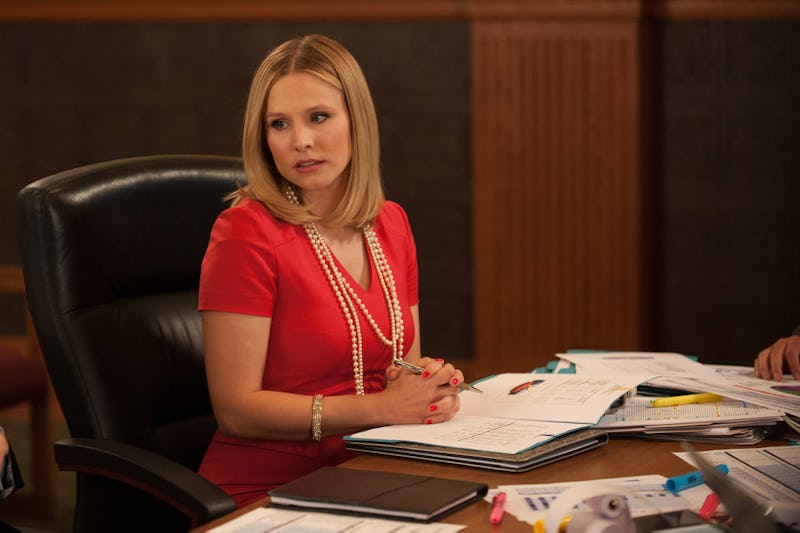 If there's been a Ben Wyatt-shaped hole in your life since end of Parks And Recreation in 2015, prepare to get happy. According to Entertainment Weekly, the actor who played Ben, Adam Scott, will guest star on the NBC comedy The Good Place (which centers on a woman living in a heaven-equivalent of the afterlife after being sent there following an administrative error), and will appear in multiple episodes. His first episode will be the one airing on Oct. 27. But, this isn't just about the casting of one admittedly very talented and witty thespian. Nope: this is a televisual event. Because Scott appearing on The Good Place actually marks a major Parks And Recreation reunion.
The comedy's main character is Eleanor Shellstrop, who is played by Kristen Bell. If you're semi-unhealthily obsessed with Parks And Recreation like I am, you won't need me to remind you that Bell played Ingrid De Forest, the beautiful, snooty Eagleton councilwoman with a talent for absurd soundbites ("We don't really like to talk about money, we find it a little... gauche," is a classic) and whose town budget issues were worked over by one Ben Wyatt. The two had some wonderful comic chemistry, so an onscreen reunion is long overdue.
It also reunites Scott and Bell with Parks And Recreation creator Michael Schur. And, if you thought the reunion factor couldn't get any higher, whoa, we're basically in Inception because Scott and Bell appeared together not just on Parks And Recreation, but also on Party Down, in which Scott's failed actor character and Bell's uptight head of Valhalla Catering character were briefly romantically linked.
Also, this whole thing becomes a little more inception-y when you add in the fact that Scott once played Bell's favorite teacher on Veronica Mars. Yup, he was Neptune High's Chuck Rooks, who Veronica grows disillusioned with when she finds out he's had an affair with a student.
They've been teacher and student, workmates and lovers, and have toiled in politics together. I can't wait to see what the pair get up to on screen together in their next outing.
Images: NBC