What To Read, Based On Your Fave Halloween Movie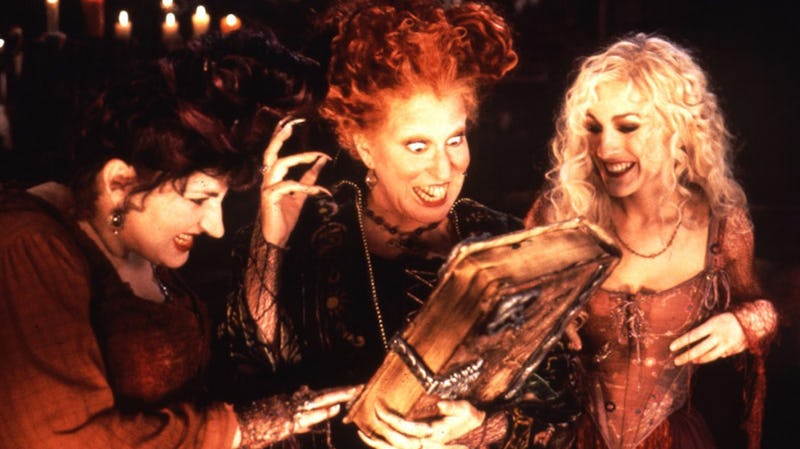 It's that magnificent time of the year where you can once again indulge in your favorite scary movies multiple times a week without judgement. Yep, I'm talking about Halloween — and the glorious month beforehand when it's perfectly OK to indulge in your creepier hobbies, like watching every scary movie available on Netflix. But October isn't just the perfect time for spooky movies; it's also the perfect time for spooky books, too.
There's something for everyone this season. There's the seriously terrifying Halloween stories, like The Shining and The Conjuring. There's the family-friendly non-scary stories like Casper and Hocus Pocus. I grew up with a horror enthusiast for an uncle, so I'm always up for some spine-chilling movies and books this time of year. But I'm also a big fan of Disney's take on Halloween, and I will watch Halloweentown and devour silly ghost stories like candy.
If you're looking for a new book (or movie) to dive into this Halloween, I've got the perfect list for you. So get your coziest fall blankets out, pour a cup of tea, and snuggle up with some friends and family for a Halloween reading party:
1. If You Love Hocus Pocus, Read Practical Magic by Alice Hoffman
If you love sassy witches, pick up Alice Hoffman's novel, Practical Magic. Bonus: it's also a movie, starring Sandra Bullock and Nicole Kidman, so plan a double feature with these two witchy stories!
2. If You Love Dawn of the Dead, Read Zombie, Ohio by Scott Kenemore
Dawn of the Dead is a classic Halloween movie. If you're looking for that same sense of humor, Zombie, Ohio is the book for you. The novel follows a college professor who recently lost his memory and is slowly-but-surely starting to show some zombie-like symptoms.
3. If You Love Rocky Horror Picture Show, Read Frankenstein by Mary Shelley
This isn't much of a surprise since Rocky is really just a modern take on Frankenstein, but it's always good to learn about the foundation of a beloved favorite. While Frankenstein doesn't have the wacky humor of Rocky, it will get you in the mood for a spooky Halloween.
4. If You Love Halloween, Read Anna Dressed in Blood by Kendare Blake
More of a classic horror fan? There's no character that can exactly replicate Michael Meyers, but Anna Dressed in Blood does a good job of creating a terrifying murder story with paranormal elements.
5. If You Love Carrie, Read IT by Stephen King
If you love the bloody, creepy, and classic tale of Carrie, why not indulge in another one of Stephen King's masterpieces? Granted, IT is absolutely terrifying. And considering America's recent clown problem, only a brave soul will want to read this book. But hey, odds are that if you already enjoy King's stories, it takes a lot to spook you.
6. If You Love The Addams Family, Read We Have Always Lived in the Castle by Shirley Jackson
Love the kooky Addams Family? Then you'll love the mysterious and secret-filled Blackwell family. This is a bizarre, strange, and a completely twisted story of two sisters attempting to dodge murder charges, but it's one you'll want to read again and again.
7. If You Love Halloweentown, Read The Secret Circle Series by L.J. Smith
Like Halloweentown, this story is about a girl who slowly learns that she's a witch. This series takes a bit of a darker road than Halloweentown, but it's fun and addictive and a treat for any '90s kid.
9. If You Love Paranorman, Read Coraline by Neil Gaiman
Chances are, if you love Paranorman, you've already seen Coraline the movie. But have you read the book? As always, the book is better, and if you haven't picked up this creepy but gorgeously written Neil Gaiman novel about a girl living in a haunted house with a passageway to a parallel universe, make sure to get to it this Halloween.
10. If You Love Casper, Read Roald Dahl's Book of Ghost Stories by Roald Dahl
If you're looking for stories of friendly ghosts, pick up Roald Dahl's Book of Ghost Stories. Short and sweet like Casper, Dahl's stories will fill you up with some good campfire ghost stories that you can pass on to your friends and family.
Images: Walt Disney Pictures, Giphy (10)