Ingrid Nilsen's New Collab Is Deeply Personal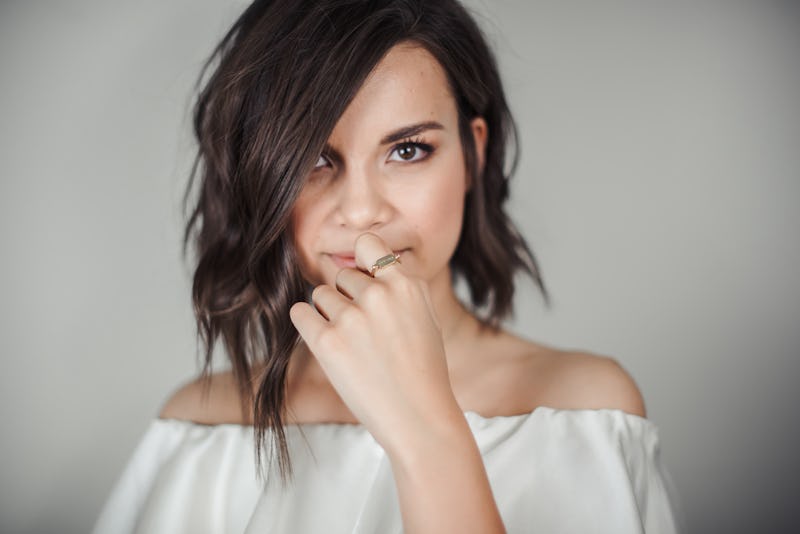 As far as influencers go, YouTubers have access to some of the most significant (and lucrative) brand partnerships out there. Users like Ingrid Nilsen, who has over 4 million subscribers on the platform, often take advantage of partnering with brands to add their own creative spin on a project or line. But when Nilsen teamed up with jewelry brand Mejuri, the YouTuber and beauty guru aimed to create something particularly significant — and incredibly personal. Nilsen's collection with Mejuri is an eight-item line of jewelry that features hidden messages on each piece. Some of the words and phrases featured are things like "choices," "keep going," "be curious," and "stay brave" — all messages that Nilsen tells me in an interview that she "thinks about pretty much on a daily basis."
"They keep me moving forward, and they have been powerful words in my life. I'm a firm believer that words have such an impact on our well-being, and they're really powerful...I like integrating things into my life that have words that really resonate with me," Nilsen says.
While all of the messages featured in the collection are powerful, one of the words, "choices," struck me as particularly unique. Nilsen tells me that the word is especially important to her as it serves as an important reminder to live life from a place of encouragement and acceptance, rather than judgment.
"I think that the word 'choices' really hits on all of these different aspects of my life, and my fundamental view of what being a feminist means to me. I think choices are so important and everyone should be able to make the choices that are right for their mind, their body, and their heart, even when somebody else's choices might not be the choices that you would make for yourself personally," Nilsen says. "....I may not personally agree with what somebody else is doing, so I have to remind myself sometimes to step back and say, 'That's their choice to do that, and I'm glad that they do have that choice.' It allows them to do whatever they feel is necessary for their well-being."
Choices Bar Bracelet, $69, mejuri.com
While Nilsen tells me that she knew the handful of words and phrases she wanted to use on the jewelry almost immediately, there are a few that have resonated consistently throughout her life and career. Nilsen says that "keep going" is one message that has been markedly influential in her life — especially during the low points.
"I've definitely had moments in my life where I have not wanted to get out of bed. It has been so hard for me to just keep living and keep going on with life when you feel so discouraged. When I found myself in the deepest part of this was when my dad died, and for the span of years, I was really in this spiral. I had so many days where I didn't want to get out of bed. I didn't want to pursue anything that was meaningful. I didn't know what was meaningful," Nilsen says. "My dad loved me so much, and I think that I pulled into that love and that energy. The thing that I was able to pull out of that was, 'Keep going,' and that's what got me out of bed on the days when I didn't want to keep going."
As Nilsen's career and life evolves, things inevitably change — but "keep going" is something that she still holds close to her today. "Sometimes, I say it out loud too, and that's what gets me up and gets me going. It may not be a perfect day. I may not be doing anything grand or extravagant, but just moving is a step in the right direction," Nilsen says.
The "keep going" gold cuff is only one item in the collection, which will be available for purchase as of Oct. 25 on the Mejuri website, and the collective goal of the messages on each piece is ultimately the same, according to Nilsen.
"I think these are universal things that we all experience in our lives at some point in different ways, and I really just want people to tap into the power that they already have inside of themselves," Nilsen says. "And sometimes you need a little reminder of that."
Images: Courtesy Mejuri