These Questions Stumped 'Gilmore Girls' Superfans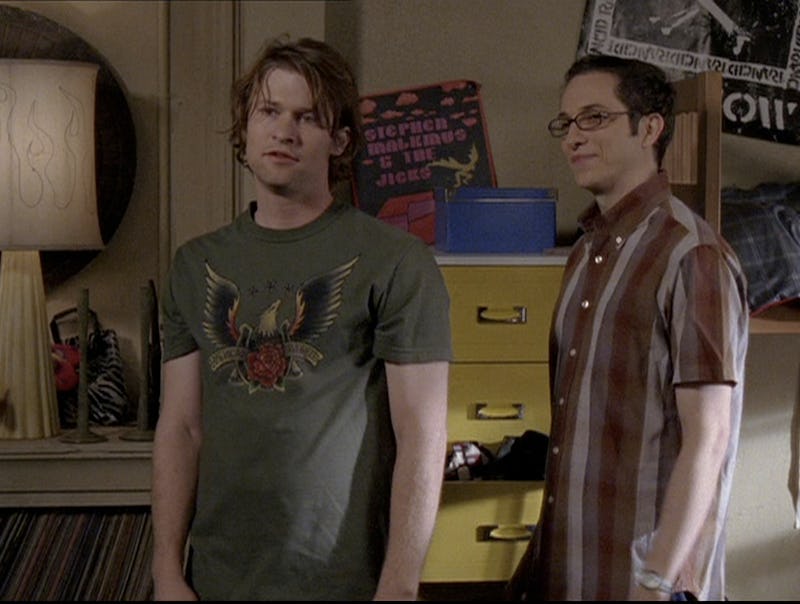 Even if you consider yourself a huge Gilmore Girls fan, you would've been impressed with the dedication and knowledge of everyone who attended the first ever Gilmore Girls Fan Festival from Oct. 21-23. Everywhere you turned in Washington Depot, Connecticut — the town that inspired Stars Hollow — there were fans quoting their favorite lines, arguing their case for Team Jess, Logan, or Dean, and sharing their love for the show with each other. The passion for the show was palpable, which is why I was so surprised when there were two Gilmore Girls trivia questions asked during the cast panel on Saturday night that not a single fan in attendance could answer.
The stakes were high, too. Previously, all three members of Hep Alien — Keiko Agena (Lane), Todd Lowe (Zack), and John Cabrera (Brian) — had signed keychains featuring the band's name, and at the very end of the panel, Cabrera announced that the first fans to correctly answer trivia questions would each take one home. The questions were asked by different members of the panel, which also included Rose Abdoo (Gypsy), Aris Alvarado (Caesar), Rini Bell (Lulu), Jackson Douglas (Jackson), Mike Gandolfi (Andrew), Sean Gunn (Kirk), Vanessa Marano (April), Ted Rooney (Morey), Liz Torres (Miss Patty), and Biff Yeager (Tom). Because they were dealing with superfans, the cast didn't even ease into tougher questions, with Cabrera asking one of the most difficult questions right off the bat:
"What is the official name of this series, Gilmore Girls, in Italy and in Germany?"
Though one person, who was ultimately awarded the keychain, came close to the Italian title, no one in the audience was able to give the full, accurate name in either country. The correct answer? In Italy, the show is called Una Mama per Amica (which roughly translates to A Mom for a Friend) and in Germany, the title is still just Gilmore Girls.
After that, the cast asked a bunch of questions that were immediately met with multiple fans in the town hall frantically raising their hands. They ranged from things like the name of Lane's first crush (Henry Cho) to how Kirk's last name was revealed (through his band, the Kirk Gleason 5).
Then, Cabrera asked another extremely hard question, and this time even warned the audience. "This one is very difficult... very difficult," he said. "I almost didn't know the answer."
"What is Hep Alien's slogan, as printed on our flyers?"
At first, it seemed that a few fans had it in the bag, but everyone who spoke up had a similar wrong answer. Remembering the time that Gil (Sebastian Bach) used a meatball sub as a placeholder on a Hep Alien flyer, the hopeful fans thought it was something to do with that, or the name of the sandwich itself, meatball explosion.
The correct answer, however, is "We're out there." In case you didn't believe him, Cabrera also reminded the audience that he'd once posted a photo of a Hep Alien flyer on his Instagram, which features the slogan at the bottom.
If you knew the answers to both of these questions, congratulations. Not only do you know Gilmore Girls even better than many fellow superfans, but Hep Alien owes you a signed keychain.
Images: Warner Bros. Television; Giphy (2)