Miley Cyrus Made A Tough Choice On 'The Voice'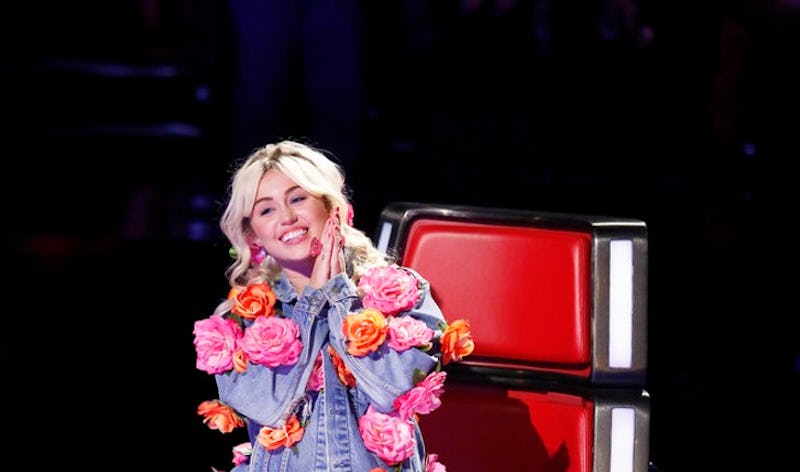 You never know what to expect from Miley Cyrus, but it's always something interesting. And the same could be said of Monday's episode of The Voice, when Team Miley members Ali Caldwell and Lauren Diaz battled it out during the knockout round competing to make it to the live shows. Putting these two against each other made sense to the pop star. She explained it by saying, "Pairing Ali and Lauren was really the only way it could be fair. They both have such big voices. I think they're on the same playing field." And, as logical as that it is, it's also clear that two people with so much going for them were going to make Miley's job of choosing a winner very difficult — to put it mildly.
During rehearsal, one of the mentors this week, Faith Hill. likened Ali's vocal range to Whitney Houston's back in the day, which is a major compliment. Ali also explained why she chose to sing "No Ordinary Love" by Sade. Ali revealed, "I chose that one because I can literally leave my heart and soul on this stage."
Lauren said that she decided to sing "Rise Up" by Andra Day, saying, "I had my son at a young age and I never gave up." So even before the ladies took the stage, it is clear that they were both putting more into their performances than just singing abilities.
Lauren went up first and I'm not gonna lie, I was having all of the feels from her performance. She really killed it. Ali also delivered a super powerful performance and, of course, this put their mentor Miley in a pretty tough spot since she could only pick one singer to advance. I wish she could have just picked them both.
Coach Adam Levine said, "Ali, I love you. I have loved you. I think you're ridiculous. To say that you could win this thing would be an understatement, but you break my heart because you're not on my team." He also told Lauren that he "believed every single word that [she] sang," which is saying a lot.
Blake Shelton remarked, "I spent that knockout round trying to think like Miley and it scared the hell out of me. Ali, there's no doubt that you're going to go far into this competition, but to Adam's point, Lauren has poured into her performance this desperation, this urgency. I don't know what Miley may do right now." Lauren's former coach Alicia Keys said, "This is the world's worst seat to seat in." Yep, pretty accurate.
Miley declared, "Ali, I think you're a total star and you could win this thing and you don't see that in yourself. That's actually a beautiful, beautiful quality. And Lauren, you're an amazing singer. You're gorgeous. You've got a great smile and personality, but people don't always get to see that pain. I didn't until getting to work with you one-on-one. Crying on stage is not a sign of weakness. It's allowing all of us into your heart, so thank you for letting us in on your emotion."
After the tough deliberation, Miley ended up choosing Ali which doesn't surprise me too much since everyone remarked how Ali could easily win this thing. Nevertheless, Lauren really did give a moving performance, and it's a shame that none of the other coaches scooped her up with a steal.
Image: Trae Patton/NBC