All The Pop Culture Refs In The 'Gilmore' Trailer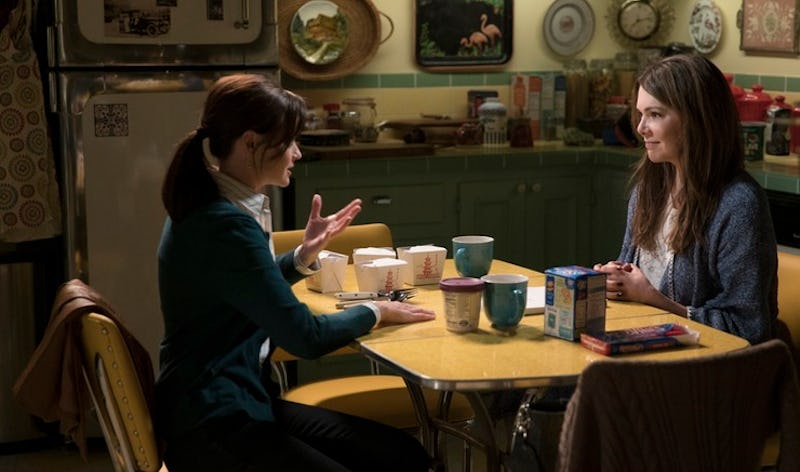 The release of the Gilmore Girls revival may still be another month away, but for fans of all things Rory and Lorelai, Netflix decided to give us a major sneak peek on Oct. 25 — in the form of the long-awaited Gilmore Girls revival trailer. The clip, released on Tuesday morning, is a Gilmore fan's dream, featuring everything from Luke and Lorelai bonding to large quantities of food to Jess Mariano (!) chatting with Rory about life. And of course, there are many, many pop culture references in the Gilmore Girls revival trailer, from Tori Spelling's hibachi incident to Ben Affleck's Batman.
The fact that the trailer features so many references to pop culture should be no surprise to fans who watched all seven seasons of Gilmore Girls. The show reveled in making nods to countless movies, TV shows, books, albums, and celebrities, and tracking down all of the references was a tough task, even for diehard fans. Luckily (or sadly, for fans hoping to get as much Gilmore time as possible), the trailer is only two minutes long, and so it's not quite as difficult to capture all the pop culture references featured in the clip. Here they are, in beautiful, chronological order. But first, re-watch the trailer, because you know you want to.
1. Baby Monitor: Sound Of Fear
Fittingly, the first pop culture reference in the Gilmore Girls trailer is to a '90s Lifetime movie, about a nanny who learns that assassins hired by the wife of her boyfriend are out to get her.
2. Co-Ed Call Girl
Another Lifetime movie from the '90s, this one stars Tori Spelling as a college student who's charged with trying to murder the owner of an escort service. And speaking of Spelling...
3. Tori Spelling's Benihana Incident
Lorelai references the star's 2015 incident at a California Benihana restaurant, in which she fell on a hibachi grill and suffered severe burns. Oof.
4. Ben Affleck's Batman
In typical Gilmore fashion, a change to Stars Hollow provokes some pop culture-themed chatter from Lorelai and Rory. Upon learning that the town might remove its phone booth, Rory asks, "well, where would Superman change when he comes to save our town from Ben Affleck?" It's a nod to Affleck's on-screen turn as Batman, and a perfect reference for the Gilmores to make.
5. Cosplay
Although it's not said explicitly, it appears in one scene that Rory is attending a comic-themed event for work, as she's shown standing on line in front of people in costumes.
6. On The Road
When Emily questions Rory's "vagabond" existence, Lorelai defends her daughter, saying that Rory is "Jack Kerouac. She's On the Road-ing it. Pass the peyote." It's a reference, of course, to Kerouac's 1957 classic, about people traveling aimlessly across the country (and imbibing in some hallucinogens).
7. The Life-Changing Magic Of Tidying Up
Emily tells Lorelai that she's decluttering her life, explaining that she's only keeping things that bring her joy and throwing everything else out, but it's not quite a spontaneous decision. It's actually a reference to Marie Kondo's bestselling self-help book The Life-Changing Magic of Tidying Up, which has the central message that people should only keep items that bring them joy, and let go of everything that doesn't.
8. On The Waterfront
Talking to Jess, Rory bemoans that she feels lost in her life, with no job, no credit, and no underwear. "I could've been a contender," she says, making a nod to a classic line from Marlon Brando's speech in the movie On the Waterfront.
Catch all those? Leave it to Gilmore Girls to make even its trailer filled to the brim with pop culture.
Images: Netflix; Lifetime; Warner Bros