Tig Notaro Has A Big Risk Planned For NYCF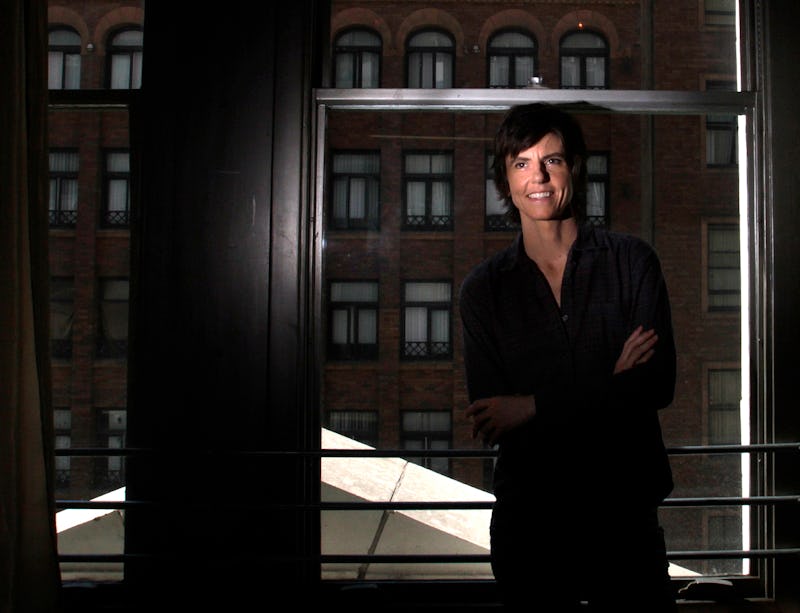 At the 2014 New York Comedy Festival, Tig Notaro wowed crowds during her Town Hall set when she removed her shirt and performed her act topless, revealing her mastectomy scars. The act was both empowering and, true to Notaro's style, honest. The comedian is known for being candid with her audiences — she revealed her breast cancer diagnosis on a podcast, one day after receiving the news herself. It's been two years since her powerful NYCF performance, and now Tig Notaro is returning to the 2016 New York Comedy Festival, with a Nov. 5 performance at Carnegie Hall. In an interview with Bustle, Notaro says she is planning to take another comedic risk, possibly her biggest yet, on stage at this year's festival.
Notaro's shirtless set went on to be included in her HBO comedy special Boyish Girl Interrupted. She has also told her story via documentary in Netflix's Tig; her semi-autobiographical Amazon series, One Mississippi, and her memoir, I'm Just A Person. These works include moments and inspiration from a year in Notaro's life when she battled c. diff. and breast cancer, struggled with the sudden death of her mother, and fell in love. Notaro finds humor in the humanity. And, her stories are relatable and respected by her fans who understand grief, illness, and just being a person.
So, what can fans expect from Notaro's New York Comedy Festival act this year? She's not giving everything away, but the hints she gave to Bustle make me think it'll be a must-see event. "I'm doing something on stage that I have never done before, live," she says. "And, it's just something I'm really excited about sharing with people. I think it's going to be really fun." I tried to prod Notaro into spilling more, but she could only tease that "it's safe to say I'll be taking another risk. And, I'm just really excited to do the festival and include this as part of my performance."
Notaro's shirtless set was incredibly empowering. Not only did it work to remove stigma for cancer survivors, but the act of removing her clothing and continuing her set with confidence resonated with women. It was an unprecedented move, so it's hard to imagine what new risk Notaro could take on stage — especially since she didn't set out with the intention to try to top her 2014 set.
"I don't ever want to look at my career, or shows, as something where I have to one up myself. But the last time I was at the New York Comedy Festival, I happened to take my shirt off during my performance and that was pretty exciting and exhilarating and all that," she says with a laugh. "But I think I might even one up myself accidentally this time around."
Notaro hasn't been touring a lot lately, but the stars have aligned for her to try something new this year. "I've had this idea of what I've wanted to do on stage," she says of her NYCF set. "And, it just felt appropriate to, you know, have this experience and this show at Carnegie Hall. And, it happens to overlap with coming back to the New York Comedy Festival, so I think it's going to be such a fun show and I am really, really excited to do this show."
If you're curious about what Notaro will unveil, you can buy tickets to join her Saturday, Nov. 5 at Carnegie Hall. Based on what she's hinted about the show, it's not something you'll to want to miss.
Image: Bob Chamberlin/Los Angeles Times