Here's Why You're Obsessed With David S. Pumpkins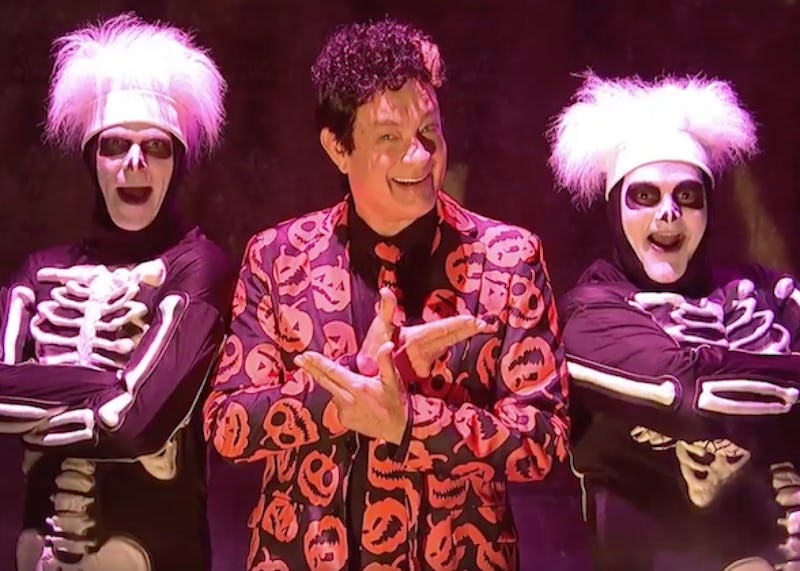 If you watched the Saturday Night Live episode hosted by Tom Hanks on October 22, you probably became low-key (or high-key) obsessed with one of Hanks' characters: David S. Pumpkins. If you didn't watch, or just don't get the joke, you may find yourself shaking your fists in the air and shouting, "Why Is David S. Pumpkins so funny?" I mean, the character is pretty much all people are talking about this week — pop culture-wise, anyway. And you don't want to be that one person in the crowd staying quiet so as not to let on that you didn't get it. Peer pressure is real, y'all.
Well, to be honest guys, I don't really get it either. I mean, I get it. It's goofy that a couple who's on a haunted house elevator ride with 100 floors has to deal with 70-plus floors of some guy in a bizarre pumpkin-covered suit, dancing with skeleton backup dancers. "Haunted Elevator" is an amusing premise, and Kate McKinnon and Beck Bennett totally nail the bewildered couple thing while the skeleton dancers who are "a part of it" — played by SNL cast members Mikey Day and Bobby Moynihan — dance in the most ridiculous way possible.
And yet is the whole thing really so funny as to cause such a social media storm? The costume has already sold out on both SpiritHalloween.com and Amazon, which could just be a testament to the fact that people procrastinate on Halloween costumes. But, seriously, what is the magic of David S. Pumpkins?
Tom Hanks, guys. The answer, nine out of 10 times, for why fans love something that features Tom Hanks is Tom Hanks. (Except for Castaway, for which the answer to the question of all that love is Wilson , of course.) As Bennett and McKinnon's characters repeatedly question David S. Pumpkins about his origins and purpose — is he from alocal commercial? Why does he have a middle initial? Why he is "his own thing"? — the rest of us already get it. He's Tom Hanks. In a pumpkin suit. Dancing. What more could you ask for? The guy hasn't hosted SNL nine times because he isn't lovable.
According to Salon, we aren't the only ones who love us some Pumpkins. Hanks' wife of 28 years, Rita Wilson admitted at the second annual InStyle Awards that, "Whenever I see it [David S. Pumpkins], it makes me want to laugh." She also couldn't explain quite why the sketch was so funny, but agreed that she needed more David S. Pumpkins in her life: "I can just call him up and go 'Bring it, I need a little David S. Pumpkins today, honey.'"
There you have it. Nobody seems to truly get what's so funny about Hanks jamming to synth music in a bright orange pumpkin-covered suit. But we will keep watching, sharing, and adoring because... Tom Hanks, duh.
Images: NBC; Saturday Night Live/YouTube