Succulent Nails Are Instagram's Coolest Mani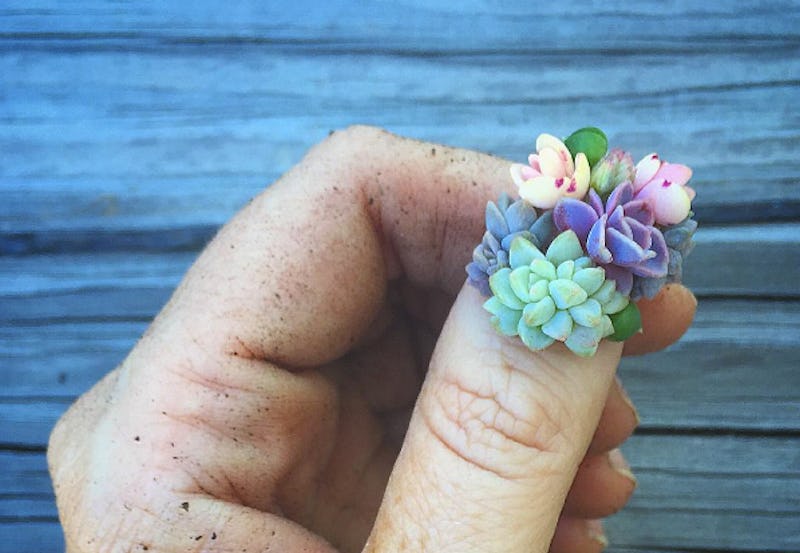 Just when it seems beauty trends couldn't get wilder, up pops the next cool mani on Instagram. Succulent nail art might be the wildest, most aesthetically interesting one thus far, arguably giving flat floral designs and 3D embellishments a run for their money.
Spring 2016 runway predictions may have said French manicures and ballerina nails would stick, but it's unlikely that anyone could have foreseen succulent nails taking over social media. When Australian artist Roz Borg found a way to take her love for horticulture to her cuticles, she did a mani like no other . Giving herself a literal green thumb, she creates living nail art by gluing plants onto her claws.
Already a master of gorgeous succulent jewelry and mesmerizing terrariums, Borg is no stranger to getting creative with plant life. But she sent shockwaves through Instagram when she began uploading photos of her "such manis," featuring the most adorable baby succulents. It may not be the most practical design and its strategic application process means it's definitely not lazy girl nail art friendly. But when such a strange and innovative nail technique like this one comes around, you have to take notice.
Borg explained to the Huffington Post she wanted to apply her succulent jewelry making process to her nails because it was a manicure she had never seen before. After a Google search yielded no results, she decided to try for herself.
"People are stunned when they realize it's real live plants, not 3D sculpting," Borg told the Huffington Post. "Some people are grossed out, but most love it!"
Using a floral adhesive called Oasis, she applied the succulents to an artificial nail before attaching them to her own hands. The entire process takes roughly an hour per hand. It's even environmentally friendly once the glue loosens.
"The Oasis glue eventually releases and I can plant the baby succulents and they can grow happily," Borg said. "It's definitely a temporary green thumb."
Recreating top nail trends is already hard enough without a steady surgeon's hand so imagine trying to keep baby plants alive and healthy enough to stick to your nails. Even going to a nail salon to choose your next mani from a row of terrariums would be totally bizarre, right? For now, let's just admire Borg's dreamy feed from afar.
Image: arozona/Instagram