7 DIY Nail Trends For Lazy Girls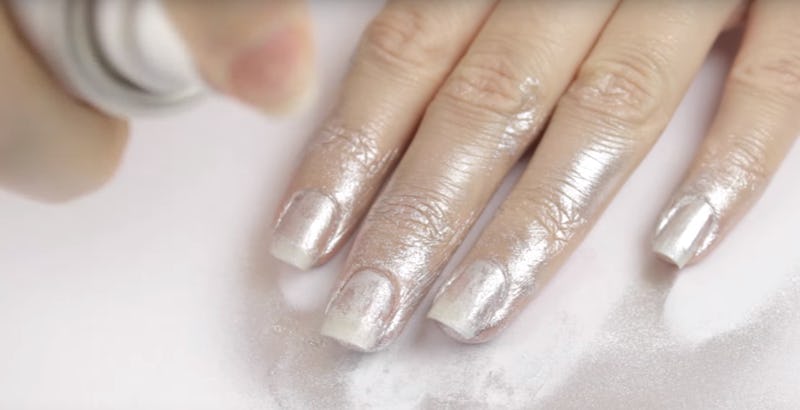 Nail polish is the only beauty product that doesn't wash off in the shower, which means that it's the perfect accessory for us lazy girls. Even better, the new year brings us a bevy of new lazy girl nail trends to try out, so grab your base coat and a bottle of wine and prepare to give yourself a painless manicure that may even last a full day.
Since models walked the catwalk in spring 2016 designs four months ago (fashion is weird), we have a good idea of what high street trends to expect in the upcoming months. Editorial manicurist Gina Edwards told Elle that French manicures were all over the runways, so we should expect to see the ultimate manicure given a modern edge with trendy colors such as oxblood and crocodile green. InStyle reported that at Erin Fetherston, manicurist Miss Pop decorated models' nails with $5 nail charms, which are perfectly affordable and darn fancy if you ask me.
Another nail trend having a major moment is the dramatic ballerina nail, which nail artist Janel Lucas described to Good Housekeeping as boasting the body of a long oval nail capped with a squared-off tip. People with long natural nails can totally file theirs into a ballerina nail, but it's a shape that's usually achieved with acrylics, and do you know what lazy people don't have time for? Bimonthly fills at the nail salon. Other trends to look out for? Opal nail polish, nude, minimalist designs, and holographic polish.
And that's just according to the professionals. There are plenty of trends surfacing in the online nail enthusiast community that are super easy to replicate at home. Behold:
Highlighter Nails
Genius. All you need for this look are basic manicuring supplies, glitter polish, and liquid highlighters. No fancy freehand nail painting skills required.
Sharpie Nails
I told you this list was for the laziest of the lazy, and the truly lazy wouldn't hesitate to use a Sharpie to decorate their fingernails.
(Easy) Polka Dotted Nails
Okay, this manicure is a little more involved than the previous two, but it's totally doable. You just need a dotting tool and enough patience to let each layer of polish dry fully, or risk smudging your dots. Or you could ignore me and just keep painting your entire nail one color.
Quilted Nails
This technique looks one you'd need acrylic to achieve, but you don't! Just tooth floss. But don't tell that to your friends and family. Let them think you have mad acrylic skills.
Ballerina Nail... Art
The truly lazy don't do ballerina nails, so by painting your fingers with little ballerinas you're practically on trend.
Glitter Manicure
It can be tricky to apply glitter nail polish, but this tutorial makes it a cinch.
French Manicure
Knowing how to do a French manicure is a useful skill to have, and it's a lot easier than it looks. Switch up the colors to bring it into 2016.
Spray On Nail Polish
Who hasn't wished they could just spray nail polish on their hands and be done with it? Nobody. Everybody has at one point dreamed of spray on nail polish. And now it is here to save the world.
Images: CutePolish/YouTube