Why Wonder Woman Is An Icon Worth Celebrating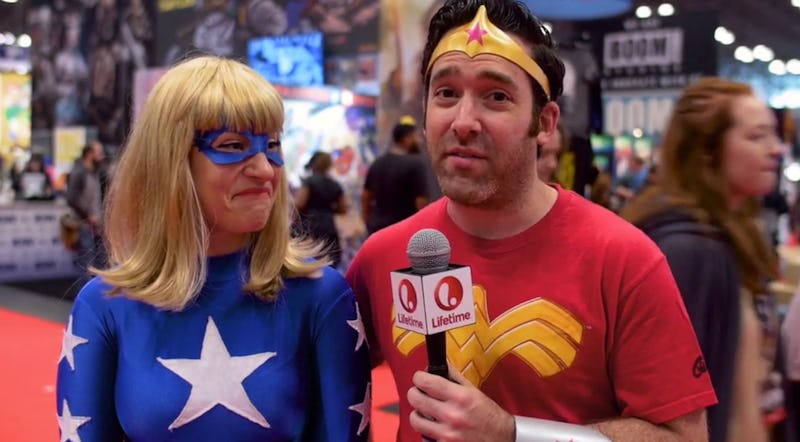 If you want to properly appreciate Wonder Woman in all of her bad-ass glory, using New York Comic Con as the arena to hold said love fest is key. And it's not just because the convention is chock-full of those well-versed in her history and accomplishments, though that's important. It's so that her fellow superheroes and superpals can attest to her greatness. In fact, that appears to be exactly why Lifetime's Fempire went to Comic Con to celebrate Wonder Woman Day, aka the 75th anniversary of her iconic existence. The superhero was recently deemed an honorary United Nations Ambassador, and despite backlash, the recognition is well-deserved.
This Fempire Moments video is a thank you note to the fictional superhero, who has felt anything but fake to the women (and men) she's inspired over the last seven-and-a-half decades. In fact, "Rosie the Riveter" even said as much. The cosplayer explained that Wonder Woman "stood for something bigger than just a character on a piece of paper." And a multitude of similarly decked out fans spoke to exactly what she meant to them — and women in general. Let's face it, Wonder Woman is a feminist icon.
Here are some of the ways that Wonder Woman's fellow superheroes credited her heroics on this milestone birthday, just in case you need a reminder of why she's worth celebrating.
"She Has Equal Amounts Compassion & Strength"
Stargirl cites the superhero's humanity as her strong suit.
"When She Gets Knocked Down, She Keeps Getting Back Up & Going"
Meanwhile, Punk Rock Batgirl admires her resilience.
"She Gets It Done"
Black Widow's declaration that Wonder Woman is "the boss" is one I wholeheartedly can get behind.
"Wonder Woman Is Fierce"
The Death cosplayer perhaps used the most apt descriptor for the comic legend.
"Wonder Woman Is Wonderful"
Lara Croft Tomb Raider may have been a little on the nose, but I can't say I disagree.
"She's Very Bad Ass, Just Like Myself"
Despite the fan cosplaying as the terrifying Negan, she makes an exceptional point. Wonder Woman gives fans the courage to be proud of their boldness and femininity, unapologetically.
"She's The Definition Of A Feminist"
The interviewer, who was dressed as Wonder Woman himself, went on to reiterate Stargirl's point: "She has strength and her compassion, which I think is something that men and women everywhere can really learn something from."
All in all, there's hardly a woman or man that Wonder Woman hasn't left her mark on. For the better.