If 'The Fall' Returns, It Will Keep Us Waiting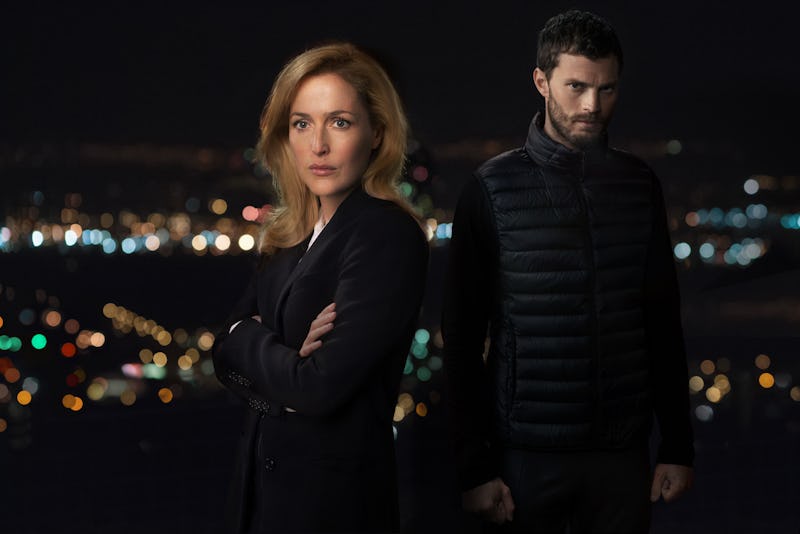 After weeks of waiting, American fans of U.K. television series The Fall were finally able to watch the third season on Netflix on Saturday, Oct. 29. The third season had already begun airing overseas, and the finale had actually debuted in the United Kingdom on Oct. 28. Not fair! But with all of Season 3 now being available on both sides of the Atlantic, British and American fans alike are probably eagerly waiting for news of whether The Fall will return for Season 4, especially since the series always delivers tumultuous finales.
Take the Season 2 finale, for example. After two seasons of hunting serial killer Paul Spector (Jamie Dornan), Detective Stella Gibson (Gillian Anderson) finally had him right where she wanted him — or so she thought. Spector was in her custody, only to be shot in the final moments of the Season 2 finale. Without going into any Season 3 spoilers, no matter what happened next, it's clear that the monster had been caught, so the game of cat and mouse is essentially over. While that is good for Gibson, it's hard for fans, because it leaves the series' future up in the air.
Though there has been no announcement yet about The Fall Season 4, series creator Allan Cubitt told Digital Spy that we may have to say goodbye to Dornan, but not necessarily the show. "I don't think I'm giving much away in saying [Season 3 is] Jamie's last season ... But that's not to say that we wouldn't do more of The Fall," he said. Speaking specifically about seasons beyond that, he also told Digital Spy, "I do have some thoughts ... But I'm quite keen on doing other things as well, so it's not going to be straight away."
So while a fourth season is definitely possible, it will still be a while before fans can expect more episodes of The Fall. Luckily, there are plenty of other TV shows starring Dornan and Anderson that you can stream after you finish Season 3 and are just waiting for news on the series' future.
The Siege of Jadotville
This Netflix original movie stars Dornan and just hit the streaming service earlier this month.
The X-Files
To know Gillian Anderson is to know Special Agent Dana Scully, so if you haven't seen it, you need to stream the original series on Netflix ASAP.
War And Peace
Anderson recently starred in Lifetime's War and Peace miniseries as Anna Pavlovna Scherer, which you can stream now on Hulu or Lifetime's website.
Hannibal
You can also watch Anderson's Hannibal arc opposite another serial killer on Amazon Prime.
Bleak House
The masterpiece classic is on Amazon Prime, featuring Anderson as Lady Dedlock.
Once Upon A Time
Before he was Spector or Christian Grey, Dornan was the sheriff of Storybrooke on the first season of Once Upon A Time, which is streaming on Netflix, along with Seasons 2-5.
These series may not fill the void that The Fall will leave, but they should help pass the time until its fate is revealed.
Images: Des Willie/Netflix; Giphy (4)