Oh, Snap! 'That's So Raven' Is Getting A Spin-Off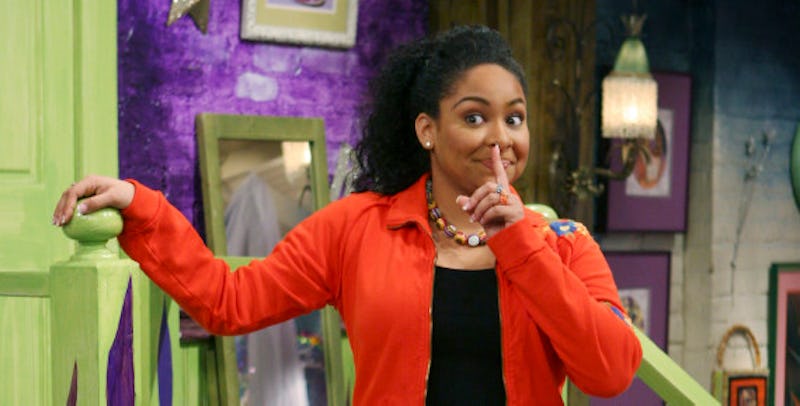 Oh, snap! I definitely didn't see this one coming. Despite reboots of everything from Full House to Gilmore Girls to Boy Meets World, asking for anything more in 2016 would have been just plain greedy. However, Disney Channel has still managed to answer fans' prayers. On Thursday morning, the family-friendly television network announced that That's So Raven will be getting a spin-off — and that's not even the best part. Aside from stepping in as the show's executive producer, Raven-Symoné herself is set to reprise her role as Raven Baxter, according to E! News. So, where is Raven now?
The executive vice president of Disney Channel, Adam Bonnet, is already spilling some details on what fans can expect from the upcoming spin-off series. He said in a statement to E!,
"Raven's brilliant style of fearless comedy was a driving force for Disney Channel's success around the world. Her performance in That's So Raven is timeless, We now have our eyes on the future with her, and we're looking forward to telling more stories for a new generation with an adult Raven Baxter raising her young family."
Yep, Raven is a mom. However, in the midst of the announcement, some more details of the character's future were also revealed. According to E! News, the show "finds Raven as a divorced mom of a preteen son and daughter, one of whom has inherited her ability to see glimpses of the future." This way — much like Disney Channel's other spin-off series, Girl Meets World — the original base of the show still remains in tack, while leaving room for an entirely new cast of characters. And aside from being the coolest mom ever, you just know that Raven's hilarious antics are not going to take a backseat to her kids'. In fact, this could be the mother-child tag team of your dreams.
However, with these new details comes a whole slew of questions. For one, what ever happened to Raven's blossoming fashion career? And is the person she divorced Eddie? Unfortunately, all of those answers depend on the likeihood of whether or not other members of the cast will return. However, I don't see why Kyle Massey, Rondell Sheridan, Anneliese van der Pol, or even Orlando Brown wouldn't find time in their busy schedules to make an appearance on the show. If anything, Raven needs her support system now more than ever — especially if her visions are still happening.
No official premiere date has been set for the That's So Raven spin-off yet. But if you have psychic abilities like Raven, please let me know. Otherwise, I'll be keeping my eyes and ears peeled for more details. The future will be here in no time.
Images: Disney Channel; Giphy