When Does The 'Bye Bye Birdie' Live Musical Air?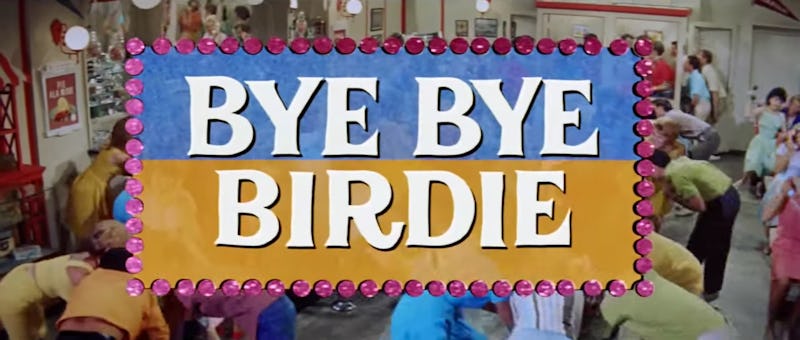 So by now, you've probably heard that NBC's next live musical will be Bye Bye Birdie, and Jennifer Lopez is taking on the role of Rosie Alvarez. And if you're a culture vulture, who's completely overexcited and hoping to mark the date in huge red letters on your calendar, you may be wondering: When does NBC's Bye Bye Birdie air anyway? Unfortunately there's no concrete date yet, although Popsugar has reported that it's "being shopped as a holiday musical," which could imply Bye Bye Birdie will come out in December 2017.
Since NBC has been doing this whole live musical thing for a few years now, it makes guessing much easier. To get to the bottom of this, let's examine the case studies of Hairspray Live! (2016), The Wiz Live! (2015), Peter Pan Live! (2014) and The Sound Of Music Live! (2013) to see if there's any sort of pattern. Because, trust me: It's never too early to get excited about seeing J. Lo sing her lungs out. In fact, the singer isn't attached to the project for no reason — Bye Bye Birdie was a vital component of Lopez's childhood, according to MTV News. She said in a statement, "Broadway musicals and films fueled my childhood and Bye Bye Birdie was one of my favorites."
Now, let's take a trip down musical memory lane to figure out when you'll actually get to see Lopez in action.
Hairspray Live! (2016)
On Jan. 13, 2016, NBC's Robert Greenblatt announced the network's next live musical would be Hairspray . The date this musical will be dropping? Dec. 7, 2016. If Bye Bye Birdie follows the pattern of Hairspray, fans would be looking at approximately a 12-month turnaround, which would suggest Bye Bye Birdie would air in mid-October.
The Wiz Live! (2015)
Not all of the live musicals took the same amount of time to prepare. NBC announced The Wiz on March 30, 2015 and it aired on Dec. 3, 2015. That was seriously speedy — a mere 8 months. If this is the case for Bye Bye Birdie, fans will be luxuriating in the glory of Lopez's singing and dancing in no time at all. That would mean June 2017.
Peter Pan Live! (2014)
Peter Pan was announced on Jan. 19, 2014 and aired on Dec. 4. There's a pattern emerging here, and it definitely isn't the duration of time required to make the musical. However, if fans were to take the duration as a blueprint for how long NBC will need to get Bye Bye Birdie up and running, you could expect to watch it in just under 12 months, which would again suggest a mid-October airdate.
The Sound Of The Music Live! (2013)
This live musical had the longest turnaround of all four — it was announced on June 30, 2012 and debuted on Dec. 5, 2013. This would suggest a 17-month duration, and if this was used as a precedent, viewers could expect to see Bye Bye Birdie in March 2018.
But that defies common sense. The pattern here isn't about how long it takes from the announcement of the musical until the date it hits NBC. Instead, it's a case of timing. In all four cases, the musical has taken place in the first week of December. So with enormous confidence, I'm calling it: You can expect to see Bye Bye Birdie on the small screen sometime between Dec. 1-7, 2017.
Images: Columbia Pictures