The Butcher Has A New Face On 'AHS: Roanoke'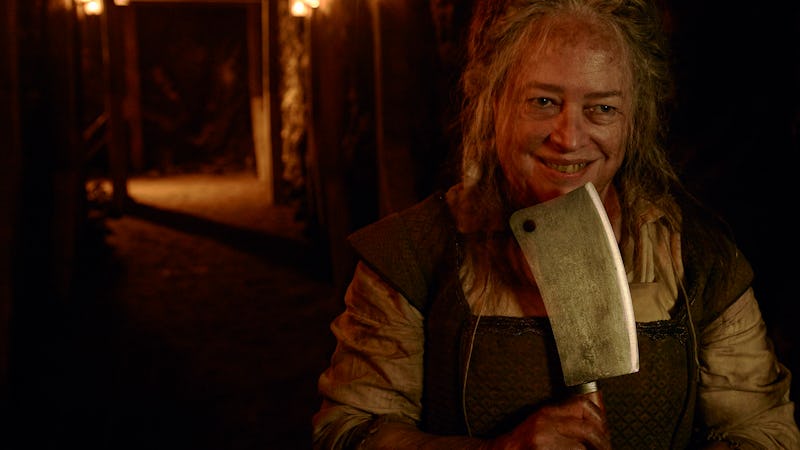 We've known since the beginning of American Horror Story: Roanoke that there were two versions of all the main characters: the real characters, appearing in the talking head segments of a faux-documentary; and their fictional counterparts, played by actors in a series of elaborate reenactments. So when it was revealed in Season 6's game-changing sixth episode that we would get a peek behind the curtain of the reality show, fans began to wonder who would play the real-life versions of characters we had only seen in reenactments so far — characters like Mama Polk, Scathach, and (most crucially) the Butcher. So who plays the real Butcher on AHS: Roanoke ? Sadly, the answer might not be what you hoped.
We all know that the character of the colony's homicidal leader was played in My Roanoke Nightmare by an actress who was in turn played by AHS veteran Kathy Bates. But when that actress — Agnes Mary Winstead — finally came face-to-face with her ghostly inspiration, who would the real Tomasyn White be? Many fans trembled with anticipation at the thought that former AHS star Jessica Lange might make a surprise return to the anthology series to play the character's real-life counterpart. Alas, it was not meant to be; we finally saw the Butcher herself in last week's episode, "Chapter 7"… and it wasn't the recognizable Emmy-winner.
In fact, it wasn't anyone recognizable — at least not at first glance. And it's easy to see why the writers decided to take this approach. If the whole idea is that we're finally dropping the artifice and seeing the real horrors that plague the North Carolina farmhouse, then it would undoubtedly take us out of that atmosphere of authenticity if suddenly Jessica Lange herself were to strut up onto the screen and cleave Kathy Bates' head in half. It would be a bit distracting, at the very least.
So the choice to cast relative unknowns in these roles is a wise one. And I say relative because, even though you might have no idea who the new Butcher is when she's all dressed up in her colonial garb, chances are good that you've seen her somewhere before. The credits of the episode tell us that the real Tomasyn is played by Susan Berger, an actress whose guest starring credits stretch all the way back to a 1973 episode of the original Hawaii Five-0. More recent shows you might have caught her in include 2 Broke Girls, Crazy Ex-Girlfriend, Ray Donovan, and Brooklyn Nine-Nine.
IMDb also has Berger credited as the Butcher in all three remaining episodes of Season 6, so viewers may have plenty of time left in which to get to know her work — although we'll have to wait to see how reliable that information is. Fans may be disappointed that Lange hasn't yet made her eagerly-anticipated return to American Horror Story; but at least we have Feud to look forward to, which will once again reunited the actress with AHS creator Ryan Murphy.
Not to mention there are still three episodes of Roanoke left, just in case you want to keep the flame of hope alive. The role of the Butcher may have been taken, but who's to say the writers couldn't figure out another way to work Lange into a surprise cameo? Keep your fingers crossed!
Images: Frank Ockenfels/FX; Giphy