The 14 Greatest Forbidden TV Couples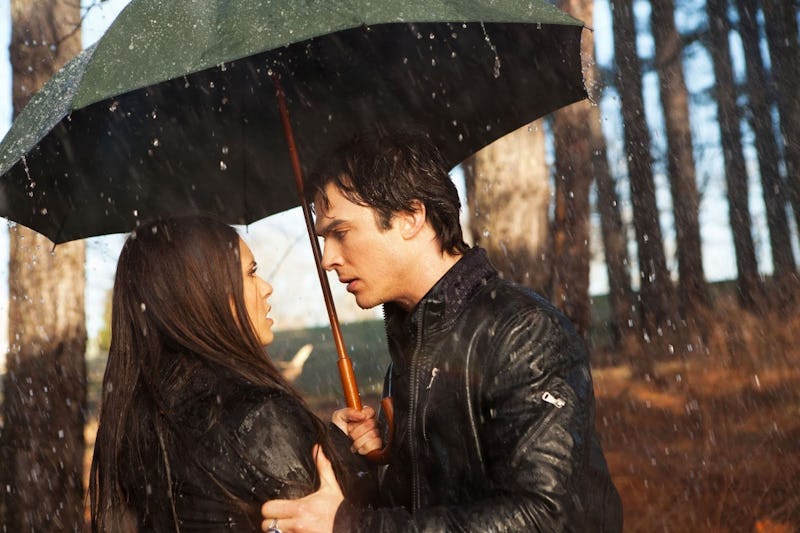 Last week on The Vampire Diaries, Elena finally woke up from her "nap." When I say "nap," I, of course, mean the trance-like state Katherine Pierce put her in while Katherine partied, kissed Stefan, and Instagrammed selfies in Elena's identical body. Now that Elena is finally back, she was treated to some of the awesome stuff that she missed. For one thing, she learned that Damon murdered her friend Aaron Whitmore in order to make himself feel better after "Elena" broke his heart. Naturally, this was grounds for Elena and Damon to have "the talk," and after a long, painful, and super-sexy romance, vampire couple Damon and Elena finally realized what audiences have been thinking this entire time: that they are not particularly good for one another.
As high as I have waved my Team Delena flag in the past, even I knew that Damon's MO of "murdering-people-when-sad-about-my-girlfriend" wasn't very healthy. The two decided that it was time to, uh, consciously uncouple, and it seemed like the best decision either one of them could have made at this point in their relationship. Of course, that lasted all but six seconds, because immediately after they made that decision, the two started furiously making out. Then, they moved over to the bed... which they promptly broke. Oops. When will these kids ever learn?
They aren't the only forbidden couple who couldn't keep their hands off of one another, despite the universe telling them that it was a SUPER bad idea. Here are 13 other couples who would have been better off saying goodbye... and always ended up in bed together instead.
President Fitz & Olivia Pope, Scandal
What would Scandal be without the steamy love affair between the President and the ultimate fixer Olivia Pope? It's unimaginable, really. These two should absolutely not be together for about a million reasons, but here are two really good ones: 1) Fitz is married to First Lady Mellie, and 2) Oval Office sex is so much hotter when you aren't supposed to be having it. Sure, Fitz bought a house in Vermont for him and Olivia to raise their babies and blah blah blah, but that's almost as boring as whatever the hell is going on with Quinn these days.
Aria & Ezra, Pretty Little Liars
Aria, girl, you are sleeping with your teacher. Not only is he your teacher, but he ALSO has been secretly writing a book about you this entire time. Sure, Aria dumped him after finally recognizing his shady behavior, but according to the Pretty Little Liars Season 5 spoilers from the showrunner, these two are still "soulmates." Ew.
Carrie & Brody, Homeland
He wasn't a terrorist. Then he was. Then he wasn't. Then he wasn't but everybody thought he was. Regardless, the whole time he was married man and Carrie was absolutely jeopardizing her career in the CIA to be with him. RIP, Brody.
Piper & Alex, Orange is the New Black
Prison is hard. It's even harder when you're living alongside the ex-girlfriend responsible for putting you in prison in the first place. All of the feelings are bound to come back — not so great when you're not exactly single. Piper has (maybe had?) a fiancé on the outside, but that didn't stop her from hooking up with Alex all over again.
Sebastian & Carrie, The Carrie Diaries
Call him the Original Mr. Big. Rich bad-boy Sebastian won Carrie Bradshaw's heart... and then broke it. Still, these two high school sweethearts just could not stay away from one another, and got back together even after Sebastian made out with Carrie's pre-Sex and the City BFF Maggie.
Logan & Veronica, Veronica Mars
The two started off the show as enemies, and it's not all that surprising that they did — Logan was a total jerk for the first half of Season 1. It wasn't until a case drew these two former friends together that they realized that they might just have a crazy-strong love connection. Sure, Logan's snobby friends didn't understand their love, and Veronica's father sure as hell didn't, but you just couldn't keep these two apart. Don't believe me? Just watch The Veronica Mars Movie. Sorry, Piz/Veronica fans, but you should know by now that LoVe always prevails.
Blair & Chuck, Gossip Girl
It's weird to think about, but there was a time before "Chair" was ever a thing. Shippers were called to action midway through Season 1, when the two had a steamy hookup in the back of a limo. Their love affair stayed salacious during most of the show's run, but at least the two ended up happily married with a kid in the finale!
Nick & Jess, New Girl
They're an established couple now but, boy, was that forbidden kiss crazy hot. The two explored feelings for one another at a pretty inopportune time — during a game of True American, which was played while Jess was currently dating Doctor Sam — but the result was an adorkable new romance.
Ross & Rachel, Friends
For 10 seasons, they were the ultimate on-again-off-again couple. From Ross accidentally saying Rachel's name at the alter to having a baby together, these two were always connected — if rarely ever officially a couple. Fans everywhere cheered when the two decided to give it a go for real in the finale. About damn time, guys!
Violet & Tate, American Horror Story: Murder House
Bad boys will always break your heart, particularly when the bad boy in question is a serial killer/rapist/ghost. There were a whole bunch of reasons why Violet should have stayed far, far away from Tate, but we think the fact that he impregnated her own mother should just about cover it. Unfortunately, now that the two are sealed into the Murder House for all eternity, they'll never be able to truly quit one another.
Peyton & Lucas, One Tree Hill
Lucas was dating Peyton's best friend when they first got together, and things inevitably got messy. You would think that would stop this couple from continuing to ruin their friendships with their forbidden love, but... you would be wrong. This happened two or three more times throughout the course of the show, despite the two of them trying very, very hard to stay away from one another.
Ray & Marnie, Girls
The first Ray/Marnie hookup could have been chocked up to loneliness. The many illicit hookups after that can be blamed on pure boredom. These Brooklynites weren't the most exciting pair, but these two just didn't know how to make a one-time thing really a one-time thing.
Cersei & Jaime, Game of Thrones
Ugh, please, guys, stop with the twincest. The result was Joffrey.
Images: The CW, ABC, ABC Family, HBO, Netflix, The CW, UPN, The CW, Fox, NBC, FX, The CW, HBO, HBO