The Starbucks Eggnog Latte Is The Most Festive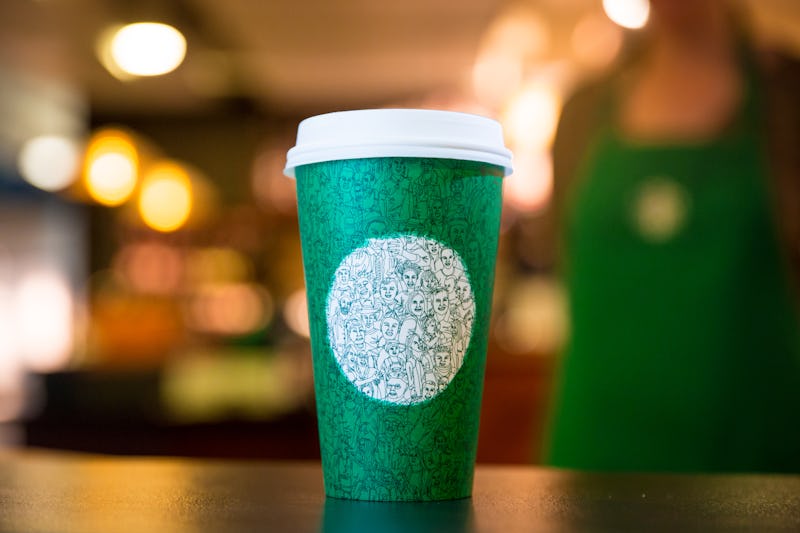 OK, Halloween is over, so get ready for the holidays! (Hey, hey, don't shoot the messenger, the storefronts said so, not me.) That said, you're definitely going to want to know about what's in an Eggnog Latté at Starbucks, because they're now available for your spirited holiday consumption.
Yup! Nov. 1 is the start of Starbuck's holiday kick off. It is officially "winter" in terms of menu items and decorations, at least. Get ready to see those Starbucks holiday green cups, and get ready to see everyone on the street clutching one like it's a hand warmer. Fall: you've been nice, but it's time to move on to winter's flavors. And really, nothing says winter like eggnog, which is exactly why Starbucks is bringing back this super festive flavor.
So, what's in the drink? In a warm and creamy Eggnog Latté, you will get a delicious mixture of espresso, combined with rich steamed eggnog and milk and dusted with a sprinkle of ground nutmeg to give it a little bite. And like all holiday drinks, this delightful cup of season's greetings is handcrafted and totally adjustable. If it's too sweet for you, ask your barista to use a pump less of flavoring next time, or ask to go whip-free, You can also order it with nonfat milk, and, if you're not in the mood for a hot drink, you can have your Eggnog Latté ice-blended into a Frappuccino. It's all about however you like it.
In the US, the lattés will range from from $4.25 to $4.75 for a Tall size and be available for purchase throughout the holiday season while supplies last. (And don't worry about Starbucks running out of your holiday treats anytime soon — they know how much you love them and depend on them for winter vibes. So, they've got enough supplies to help you make it though the season, with a warm cup of festivities in your hand every morning.)
Because let's be real, for most of us, these holiday drinks are not treats, they're straight up sustenance. We need them to get through the winter in good spirits. They keep us warm, they keep us awake at our desks and they keep us from tuning into the Grinch during morning commutes.
So go! Run to your holiday drinks, they're officially waiting for you. And a very happy green cup season to you and yours!
Images: Starbucks (3)