Starbucks Almost Deprived Us of a Holiday Classic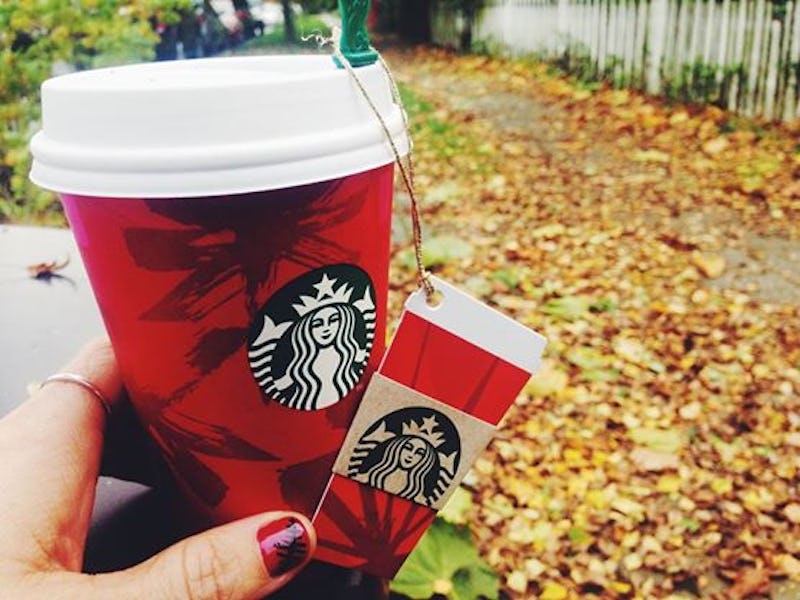 By now, you've probably heard that Starbucks is offering its first new holiday beverage, the Chestnut Praline Latte, in five years this season — but what you probably didn't know is that the plan was to scrap one of the other classic red cup beverages in favor of it: The Eggnog Latte. After a customer revolt, however, the coffee chain has reversed its decision; Starbucks' Eggnog Latte will return to stores everywhere on November 17. Rejoice, holiday nog fans! Your winter has been saved!
I'll be honest: I had no idea the Eggnog Latte was so beloved among holiday espresso drink connoisseurs. One of my friends in college swore by it, so I tried one once on her recommendation… and absolutely hated it. Apparently it's the dark horse of the Starbucks holiday beverage brigade, however, because fans of it rose up out of the woodwork in protest when they discovered that the Eggnog Latte had not made its reappearance alongside Starbucks' red cups. Said Starbucks rep Linda Mills to Mashable:
"We received passionate feedback from our customers talking about how much they love our Eggnog Latte on social media, through MyStarbucksIdea.com, through letters, and via phone calls. These messages were emotional and personal. We heard them and quickly acted."
Which is how the following holiday miracle happened:
Congrats, Team Eggnog Latte! You did it!
According to Starbucks Melody, the Eggnog Latte has been around in some way, shape, or form since — somewhat astonishingly — 1986. I had no idea the drink was almost as old as I am, but hey, TIL, right? At the time, Howard Schultz, who is now Starbucks' CEO, ran a small coffee chain called Il Giornale; Schultz had previously been Starbucks' Director of Marketing, but left when the 'Bux's then-owners turned down his Italian-inspired idea to begin offering espresso drinks. So he struck out on his own with Il Giornale, and in October of 1986, he asked Dave Olsen to create a Christmas beverage for the chain. Olsen came up with the idea of the Eggnog Latte; "straight steamed eggnog was too rich even for my indulgent palate," he said, "so I cut it with milk and away we went!" Schultz ended up purchasing Starbucks a year or so later and rebranded all Il Giornale locations with the Starbucks name… and thus began the 'Bux as we know it, complete with the red cups and Eggnog Lattes that appear every holiday season.
I may feel kind of nonplussed about the presence of the Eggnog Latte or its lack thereof… but you know what did kind of horrify me? The fact that the MyStarbucksIdea tweet also included a note about the Gingerbread Latte. I haven't been to a Starbucks since the red cups reappeared, but good gravy, Starbucks, you'd better not have taken away my Gingerbread Latte. That one? That's my absolute favorite overpriced, overly caloric, but oh-so-tasty holiday espresso drink, and the idea of a season without it is unthinkable. So Team Nog, I totally understand how you feel now — and Starbucks? Thank you for bringing both drinks back. Time to celebrate!
Images: Starbucks/Facebook; MyStarbucksIdea/Twitter; Giphy