Stephanie Romances A Gibbler In 'Fuller House'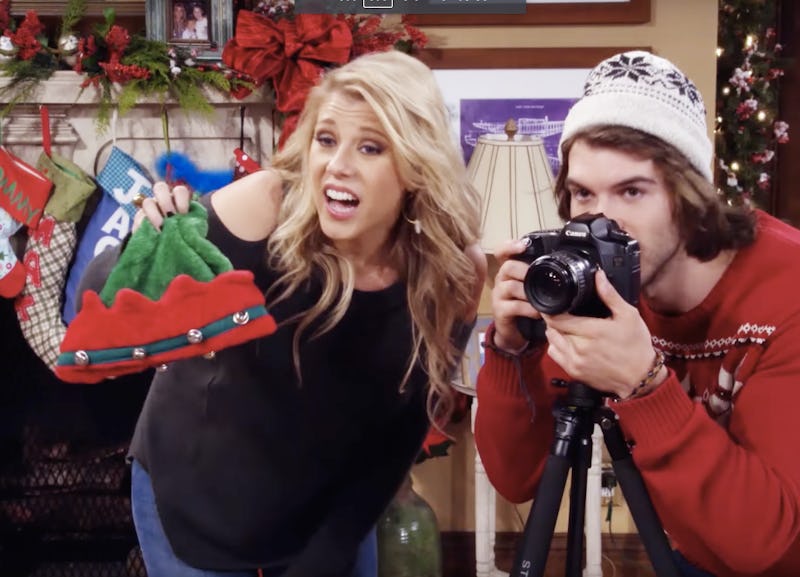 Netflix has finally released the Fuller House Season 2 trailer, because predictability has not gone anywhere. Besides all the to-be-expected treats (Danny Tanner in a mid-life crisis, Cosmo in reindeer ears, New Kids on the Block), there's one particular — and new — appearance that should have fans giddy with anticipation. The arrival of Kimmy Gibbler's little brother, Jimmy Gibbler, played by actor Adam Hagenbuch. The best part about Jimmy Gibbler, besides his name rhyming with Kimmy's, has to be his new girlfriend, Stephanie Tanner. Yeah, I'm calling it now. Despite the uncomfortableness of their initial kiss, Jimmy and Stephanie aren't just a potential match. They are dating. This is all proven by clues in Season 2's trailer, I promise.
Earlier this month, we learned that Kimmy Gibbler's brother would be joining Season 2, which was news to most fans, considering the fact that we weren't made privy to such knowledge about Kimmy Gibbler's family during the original Full House run. We were also informed that there was going to be a potential love interest for Stephanie this season. By the looks of the trailer, it's Jimmy, and it doesn't seem to be just any love interest. This is the real deal. It appears that either Jimmy Gibbler has moved into the Tanner household or at lives least close by, because he's in almost every single scene.
Here are all the clues from Fuller House's Season 2 trailer that prove Jimmy and Stephanie are in a legitimate relationship.
1. The Initial Chemistry
Sure, Stephanie's upset that she "just kissed a Gibbler." (I guess she didn't know who Jimmy was, pre-kiss?) But, dang. Look at that chemistry. That's the foundation for something real.
2. Jimmy's Focus On Stephanie
Notice how Jimmy isn't focused on any one else in this shot. He's clearly smitten.
3. Jimmy's Always Next To Stephanie
Jimmy stands by Stephanie's side in all the shots that involve them. If that doesn't scream commitment, I don't know what does.
4. They Play Photographer Together
Look at these lovebirds, creating holiday photographic magic. She's the Gerda Taro to his Robert Capa.
5. Her Hand Around His Back
Just a normal couple, celebrating the new year together with friends and family. Look at the way her hand is ever so lovingly placed on the small of his back. Details, people.
6. Sitting Next To Each Other
Please take notice of who's sitting right next to each other at a holiday family gathering. Jimmy and Stephanie, of course.
Watch the romance develop in the Season 2 trailer, and check out the complete magic and possibly greatest love story in Fuller House history when it debuts on December 9.
Images: Netflix; NetflixUS&Canada/YouTube (6)