Indulge Your '90s Kid With Hard Candy x Trolls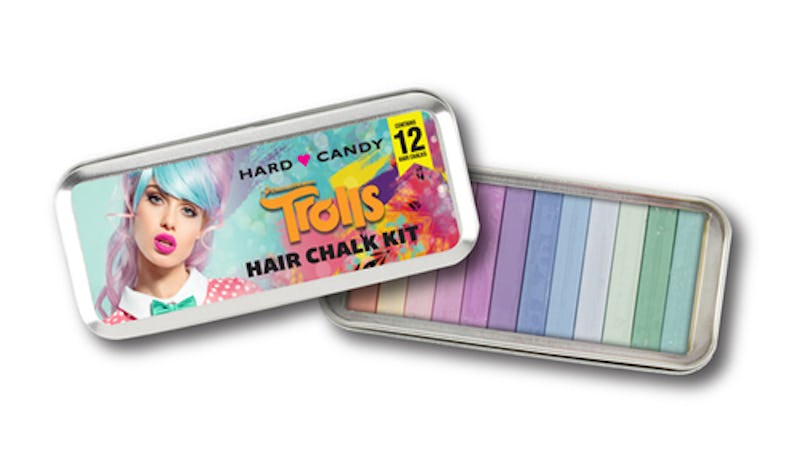 If you are a '90s kid that loved Trolls, your life is about to be made and with makeup! MAC isn't the sole makeup brand celebrating the Good Luck Trolls, which were a signpost of the decade and pop culture. Those so-ugly-they-are-actually-really-cute creatures also inspired an entire Hard Candy x Trolls makeup collection. The Hard Candy x Trolls Collection is available exclusively at Walmart as of the first week of November. The expansive range is limited edition and it's a rainbow of fruit flavors. Seriously. The collection is extensive, boasting nine products in a variety of shades, and it focuses on bright pops of color for all of your features. What's in the Hard Candy x Trolls Collection?
Oh, just everything to help you get your Troll on, yo!
According to the press release Bustle received from Hard Candy PR, the sweet collection includes Metallic Mousse lipsticks, a Prismatic highlighter, glittery Popping Pigments, a Hair Chalk Tin, a Glitter Palette, Color Changing Gloss, Marbleized Lipstick, an Eyeshadow Palette, and a Mood Lip Balm. Everything is adventurous, bold, and comes with insanely attractive prices. Nothing is over $8 and you can't beat those prices when you want to play with trendy, bright colors.
It's always wise to not overspend on trendy colors you may not use on a daily basis or that you will only use seasonly or are reserved for special occasions. But don't worry — Hard Candy x Trolls has plenty of offerings that can be incorporated into your daily routine.
I wasn't kidding about Hard Candy x Trolls being a rainbow of colors! The Prismatic Luminizer will let you highlight in an unconventional way.
OMG, the Eyeshadow Palette looks like Tetris. It's a colorful maze and makes makeup fun.
Tie-dye lipstick? That's a "yes" when you want to be playful and unusual with your pucker.
It's a glitter party in palette form.
This Mood Lip Balm is mint green in the tube but when it reacts with your body chemistry, it turns a custom shade of pink. Weeeee!
Rub your lips together and this gloss will change color continually. Magical makeup, indeed.
Enjoy temporary highlights with the Hair Chalk Kit.
You can use this multi-purpose, loose glitter on your face or body. Mix with lotion, body oil, whatever. Have fun — that's the only rule.
Get a metallic mouth with these fluffy lippies.
Hit up your local Walmart to stock up on the cheap 'n' cute Hard Candy x Trolls collection. It's not a permanent addition, so act now.
Images: Courtesy of Hard Candy (9)