Too Faced's Chocolate Chip Palettes Are Here Soon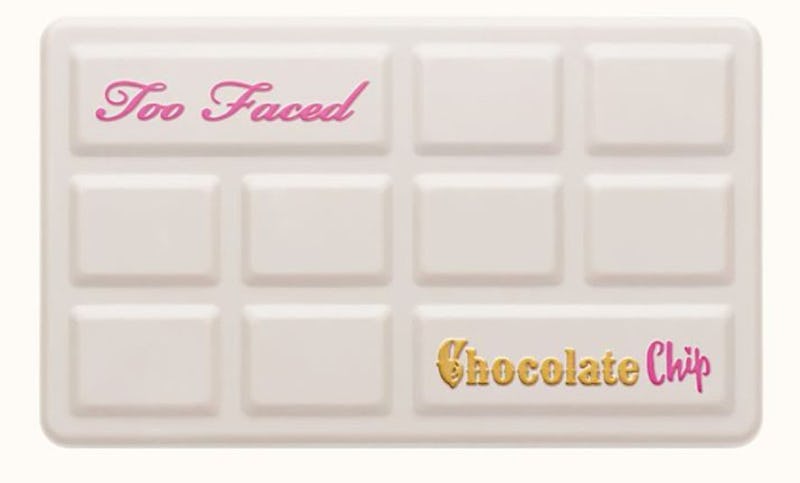 Back in April, Jerrod Blandino of Too Faced teased the brand's white Chocolate Chip palette. Since he is a master of teases, Blandino didn't reveal too many details about what was inside, instead leaving fans to guess and sharing other intel, such as sizing, via hashtags. The makeup guru posted another "sneaky peek" of the Too Faced Chocolate Chip Palette, this time sharing two photos of two different color cases, adding a brown version of Too Faced Chocolate Chip to the mix.
Blandino also offered up another key detail of critical importance to makeupistas on a budget who need and want to plan ahead and save their pennies to make these purchases. While Blandino didn't let us have a look under the hood of the palettes nor did he allow us to view, appreciate, and drool over the shades contained within, he did reveal when we can grab these sweet treats. When are the Too Faced Chocolate Chip Palettes available to buy?
Well, according to the most recent posts and accompanying hashtags, the Too Faced Chocolate Chip Palettes will be available on Black Friday, which is Nov. 25. The white version will be available exclusively via Sephora.com, which was also noted by Blandino's caption. The brown version is available only at Too Faced's site.
Bustle reached out to Too Faced reps to inquire about the contents of the Chocolate Chip Palettes.
Update: Too Faced reps responded to Bustle's inquiry, suggesting that Sephora would likely be further revealing details about their palette. Stay tuned!
This is the most recent shot of the white Chocolate Chip Palette, which is certainly an appropriate addition to the Too Faced lineup of sweet treats. Most of its palettes are sugary-scented and yummily-inspired, from Peanut Butter & Jelly to Sweet Peach to the Chocolate Bar.
Blandino also posted this photo of a brown palette, also named "Chocolate Chip." He mentioned the mini size of the palette and tagged Huda Beauty in the post. It's also another welcome addition to the brand's sweet offerings.
And this is the earlier post, where Blandino revealed the white version of Chocolate Chip, noting that the Chocolate Chips are travel-ready and smaller.
Too Faced continues to introduce new products and expands its repertoire, keeping fans excited, on top of trends, and experiencing #ByeMoney moments.
Black Friday is the biggest shopping day of the year and Too Faced has #options! The brand is one of the main owners of the palette space and it's not disappointing Too Facers.
Images: Jerrod Blandino/Instagram (3)