11 Vegetarian Thanksgiving Recipes From Literature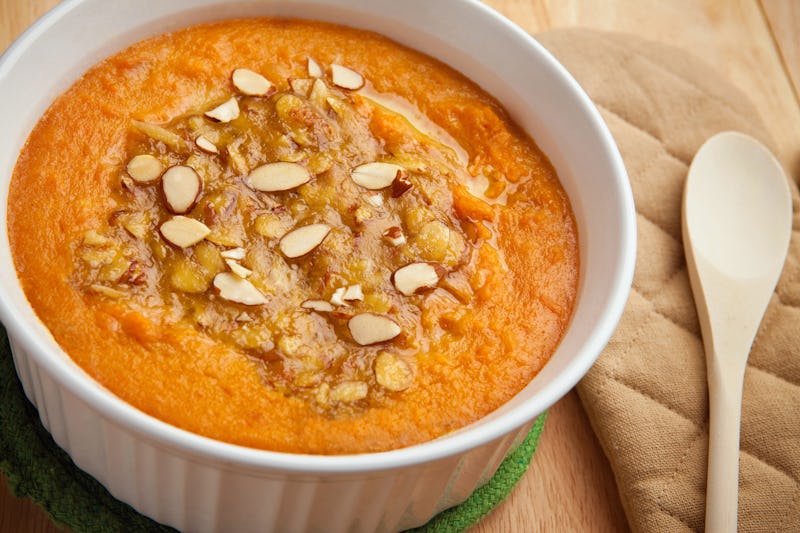 tacojim/E+/Getty Images
Thanksgiving doesn't have to be all about the turkey — and some of your favorite authors know that, too. If you're searching for some delicious vegetarian Thanksgiving recipes, look no further than the pages of these beloved books. Authors from Suzanne Collins to Nora Ephron have got their own ideas that will look great on your kitchen table this November.
Fall is already a great time to be vegetarian. 'Tis the season for roasted autumnal veggies, chestnut salads, and hearty mushroom risottos. All these will make perfect additions to your Thanksgiving spread, but it doesn't stop there. When you look to the books, your whole world will expand. Because authors are seriously creative, y'all. They've got ideas about food that will change the whole game.
So whether you're bringing a dish to a pot luck, or in charge of hosting the whole shindig — with the help of Louisa May Alcott and Truman Capote, your veggie Thanksgiving dreams are within reach. And the best part? These recipes are so distractingly delicious that any of that typical Thanksgiving family drama will have to take a back seat. After all, nothing says family bonding like maple snow ice cream.
1. Black Bean Pumpkin Soup from The Hunger Games by Suzanne Collins
Greasy Sae from The Hunger Games' District 12 is definitely not a vegetarian, but her soups are pretty infamous. If she was to bring a dish to your Thanksgiving bash, it would probably be the delicious black bean soup found in The Unofficial Hunger Games Cookbook.
2. Rosemary Bread Pudding from The View from Castle Rock by Alice Munro
In Alice Munro's mostly autobiographical story collection, The View from Castle Rock, she writes about how whenever she was in charge of cooking as a child, she resorted to this cosy bread pudding recipe.
3. Hot Mashed Potatoes from Heartburn by Nora Ephron
In her heartwrenching novel Heartburn, Nora Ephron drops this indisputable truth: "most people do not have nearly enough mashed potatoes in their lives." She also includes the recipe to make those potatoes perfect:
Put 1 large (or 2 small) potatoes in a large pot of salted water and bring to a boil. Lower the heat and simmer for at least 20 minutes, until tender. Drain and place the potatoes back in the pot and shake over low heat to eliminate excess moisture. Peel. Put through a potato ricer and immediately add 1 tablespoon heavy cream and as much melted butter and salt and pepper as you feel like. Eat immediately. Serves one.
4. Baked Potato with Vodka from The Potato Book, recipe by Truman Capote
In a forward to Myrna Davis' The Potato Book, Truman Capote suggested the most incredible sounding Thanksgiving recipe: a baked potato smothered in sour cream and caviar, and paired with a chilled bottle of 80-proof Russian vodka. Wow.
5. Sweet Yams from The Invisible Man by Ralph Ellison
Potatoes are pretty much a Thanksgiving staple, but if you're not a big fan, yams are a great alternative. In The Invisible Man, Ralph Ellison describes the most decadent sounding candied yams, with "bubbles of brown syrup" and "sugary pulp steaming in the cold." Try this sweet yams recipe to get some of that deliciousness on your own Thanksgiving table.
6. Buttermilk Biscuits from Fried Green Tomatoes at the Whistle Stop Cafe by Fannie Flagg
Food is the centerpiece of Fannie Flagg's magnificent Fried Green Tomatoes at the Whistle Stop Cafe (well, and murder) — and the best recipes are all listed at the back of the book. Most of them are dripping in bacon fat, but these veggie buttermilk biscuits will be perfect for your Thanksgiving feast.
7. Roasted Eggs from The Secret Garden by Frances Hodgson Burnett
Frances Hodgson Burnett is such a talented writer she can make your mouth water with just one sentence: "Roasted eggs were a previously unknown luxury and very hot potatoes with salt and fresh butter in them were fit for a woodland king—besides being deliciously satisfying." Tell me you're not tempted to serve that up for a Thanksgiving treat.
8. Arugula Salad from The Corrections by Jonathan Franzen
Who knew a simple salad could sound so delicious? In The Corrections, Franzen talks about "parmesan shards packed in an excelsior of shredded arugula" — which sounds like the perfect side salad to go along with all those potatoes.
9. Death in the Afternoon Cocktail, inspired by Death in the Afternoon by Ernest Hemingway
Food may be the main event at Thanksgiving, but in close second comes alcohol. In 1935, the cocktail book So Red the Nose, or Breath in the Afternoon included the cocktail Death in the Afternoon, named after Hemingway's novel. The recipe is simple:
Add one jigger of absinthe to a champagne fluteAdd iced champagne until it attains the proper opalescence.A small amount of sugar or Gomme syrup can be added to round it out, especially when using a verte absinthe.
10. Maple Syrup Snow Candy from Little House in the Big Woods by Laura Ingalls Wilder
As a child, I don't think anything made me more jealous than reading the descriptions of the Ingalls family harvesting sap to make delicious maple syrup, which they then poured over a plate of actual snow. Luckily, you can do this yourself even if the weather hasn't turned cold enough for snow just yet. With some shaved ice, make this maple syrup snow candy and make your whole family feel super nostalgic.
11. Banana Breakfast from Gravity's Rainbow by Thomas Pynchon
Thanksgiving isn't Thanksgiving without an overly decadent dessert — and Thomas Pynchon has got you covered with his ridiculous banana breakfast from Gravity's Rainbow:
Chop several bananas into pieces. Make coffee in urn. Get can of milk from cooler. Puree 'nanas in milk. Lovely. . . Bit of marge, still smells all right, melt in the skillet. Peel more bananas, slice lengthwise. Marge sizzling, in go long slices. Light oven whoomp blow us all up someday oh, ha, ha, yes. Peeled whole bananas to go on broiler grill soon as it heats. Find marshmallows. . . .
Yep, anything that ends in hunting for marshmallows sounds like a perfect Thanksgiving treat in my book!
Images: tacojim/E+/Getty Images; Giphy (5)