13 Essential Jane Austen Home Decor Items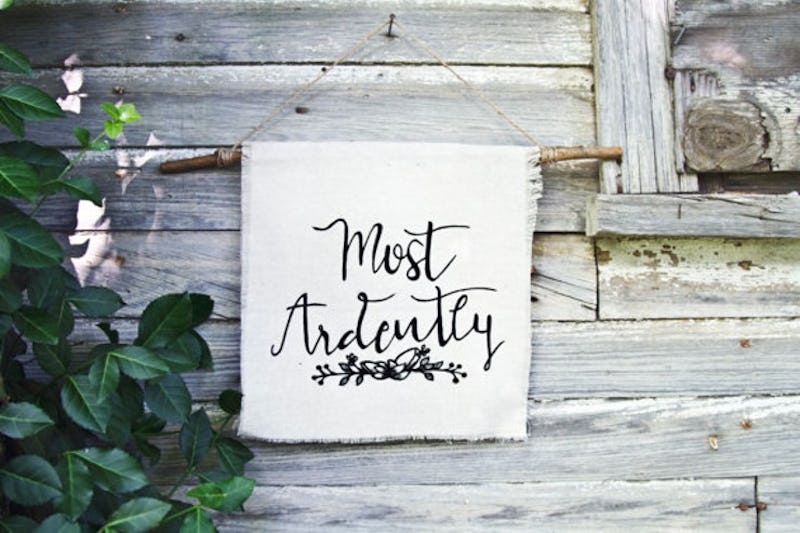 Book-lovers have a tendency to wear our feelings and our favorite novels on our sleeves, but it doesn't stop there — we also show our passion for books on our shelves, in our wardrobe, on our walls, and just about everywhere else we can. With plenty of shelf space and these Jane Austen home decor items, you can transform your house into the literary lair of your dreams.
Sports-lovers hang posters and frame jerseys, video game-lovers collect new systems and character figurines, but book-lovers take it to a whole new level. Not only do we fill our shelves with paperbacks, hardcovers, picture books, and boxed sets, but we fill our homes with book-themed decor that truly showcases our obsessions. Our throw pillows are adorned with the words of our favorite books, our hallways are lined with lovely literary scenes, and our living rooms are lit up with literary-scented candles, perfect to curl up and read by. We seek to make our home as wonderfully bookish as we are, one home accessory at a time.
If you're a book-lover thinking of redecorating and your favorite book is Pride and Prejudice, then here are 13 essential Jane Austen home decor items that will transform your tiny apartment into the perfect mini Pemberley.
1. Welcome Mat
Jane Austen is known for her brilliant quotes, but this one about staying home perfectly captures the feelings of homebodies everywhere. Perfect words to print on a welcome mat ($23.80, Society6), with this, you can make your love for staying in and reading known from the first step into your home.
Welcome mat, $23.80, Society6
2. Jane Austen Library Candle
Fill your home with the comforting floral scent of Jane Austen's library with this Soy Wax candle ($21, Paddywax.com). Perfect for reading by, it's a fun bookish touch to your home library, living room, or bedroom.
Soy Wax Candle, $21, Paddywax.com
3. Decorative Book Box Set
Every Jane Austen-lover's home needs at least one set of decorative novels ($43.20, amazon.com) by the author. Display them proudly, and don't forget to take them out and (re)read them occasionally.
Decorative Novels, $43.20, amazon.com
4. Magnet Set
Decorate your fridge or your whiteboard with colorful Jane Austen magnets ($11.46, Etsy.com). Complete with images of tea, book quotes, and shoutouts to the author, they're a fun way to brighten up your kitchen.
Jane Austen magnets, $11.46, Etsy.com
5. Tea Towel
Jane Austen is in expert in many things — romance, sisters, writing — but tea is chief among them. Decorate your kitchen with a tea towel ($22, Etsy.com) adorned with the author's famous quote to the beloved drink, and make your home a little more Austen-inspired in the process.
Tea Towel, $22, Etsy.com
6. Pride and Prejudice Comforter
Have sweet, bookish dreams with the help of a Jane Austen-themed comforter ($84.15, Society6). Perfectly cozy to curl up with on cold winter nights, it's the perfect blanket to reread your favorite Austen books with.
Jane Austen-themed Comforter, $84.15, Society6
7. Book Coasters
Looking for a place to set your tea cup down? These Pride and Prejudice coasters ($5, Etsy.com) made from recycled book pages are perfect for just that.
Pride and Prejudice coasters, $5, Etsy.com
8. Framed Art Print
Ideal for hanging in your home office or writing studio, this framed art print ($25.50, Society6) showcasing Austen's words of wisdom will inspire your finish your own novel. Hang alone or on a gallery wall of bookish art, and you've got yourself one literary-loving home.
Framed Art Print, $25.50, Society6
9. Wooden Sign
Every Austen-lover needs a library, and so too do they need an appropriate sign to hang in it. This hand painted library quote ($30, Etsy.com) is a beautiful and appropriate addition to any reading nook.
Hand Painted Library Quote, $30, Etsy.com
10. Shower Curtain
There is no end to a book-lover's passion, not even when it comes to the bathroom. This Pride and Prejudice printed shower curtain ($57.80, Society6) proves just that. If you've always dreamed of getting hot and steamy with Mr. Darcy, here's your chance.
Printed Shower Curtain, $57.80, Society6
11. Linen Wall Hanging
A fun alternative to the traditional art print, an Austen-themed linen wall hanging ($15, Etsy.com) is a great way to show off your favorite book quote. Whether displayed inside or out, this bookish decoration will let everyone know how ardently you love Austen.
Linen Wall Hanging, $15, Etsy.com
12. Wall Decal
Take your love for Jane Austen one step further by plastering it on the wall. With a wall decal ($19.99, amazon.com), you can decorate while displaying memorable words from one of the world's best writers.
Wall Decal, $19.99, amazon.com
13. Pillow Cover
The best reading space have ample lighting, a table for tea, and plenty of pillows to prop yourself up on. Give your nook the finishing touch by adding Jane Austen pillow covers ($22, Etsy.com) and consider your home transformation complete.
Jane Austen Pillow Covers, $22, Etsy.com