7 Flat Irons With The Best Reviews On Amazon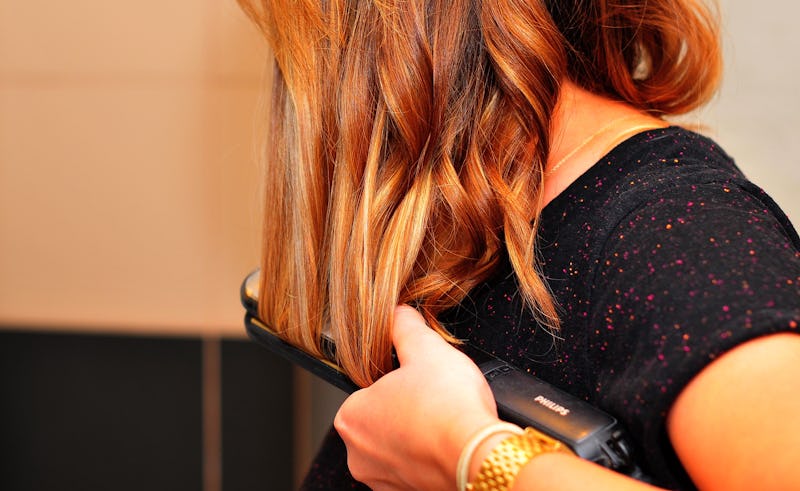 Tired of buying a random hair straightener that leaves your hair awkwardly wavy or worse, burnt to a crisp? Yeah, same. Save the agony of testing one after another and snag one of the following flat irons on Amazon with the best reviews instead.
Compiling this roundup reminded me of the first flat iron I ever got. I was 11 years old, I ordered it from a commercial and it was hands-down the worst thing I've ever bought. The plates burned my hair to a crisp and my straight hair didn't last longer than six hours. Needless to say, I was literally burnt out from hair tools and gave up for quite a while. A few years later, I saw a friend's perfectly straight hair and asked her for the name of her flat iron. I bought her recommendation immediately and, lo and behold, it left my hair straighter and smoother! It was then that I learned the power behind word-of-mouth recs for flat irons (and other hair tools, of course) and now I always read reviews. They clue you in what makes a product so awesome and debunk the gimmicks that companies use to sell you products.
Which is why I rounded up this list of the best flat irons highly reviewed on Amazon. Tested and praised, these styling tools each offer something unique, from keratin-infused plates to styling brushes that cut your getting ready time in half. They're honest and to the point, and you'll save yourself the heartache of buying a defective product that destroys your strands.
1. A Straightener That Doubles As A Curling Iron
HSI Professional Ceramic Tourmaline Ionic Flat Iron, $40, Amazon
What makes users rave about the HSI Ceramic Flat Iron is not just that it leaves them with smooth, straight hair. It's also because the plates are so small, you can actually add curls and waves with it. "I used it to curl my hair and I have to say it works better than a curling iron," says Amazon reviewer Scruz, adding, "I love it."
2. A Hair Straightener And Brush Hybrid
Bearmoo Brush Hair Straightener , $40, Amazon
Reviewers agree: this Bearmoo Hair Straightener is not gimmicky and smooths out the curliest of hairs. "I have very curly hair and usually have to use a ton of product to straighten my hair. Only put in heat protection spray, a few swipes of the straightening brush, all done. Beautifully straight, soft and not frizzy," says one Amazon customer. "I'm very impressed to say the least, not only did I not have to blow dry my hair, it's straight and frizz free and I'm not even hot," says fellow Amazon user Kevin Wildes, who also has curly hair. Looking for similar products? We've got you covered with these five other hair straightening brushes!
3. A Flat Iron That Automatically Shuts Off For Anxiety-Prone Folks
Wazor 1 Inch Ceramic Titanium Hair Straightener, $29, Amazon
How many times a week do you accidentally forget to turn off your straightener, or at the very least, get totally terrified halfway through the day about it? While this Wazor Flat Iron has everything you'd ever want, what really sets this styling tool apart is its automatic shutoff, according to multiple reviewers. They also love how quickly this tool heats up, as well as the smooth ceramic plates that effortlessly glide through hair without tugging.
4. A Straightener That Won't Dry Out Your Hair
Xtava Pro-Satin Infrared Straightener, $38, Amazon
Because of its infrared heat technology, Xtava's Pro-Satin Infrared Straightener promises to seal your hair's moisture and minimize damage, leaving your tresses looking and feeling silkier, and reviewers agree that this flat iron does exactly that. "I was surprised by how much shine this iron added to my hair compared to my other flat irons I own," says Amazon customer Laurel. "This new Infrared Flat Iron my hair sleek, shiny and healthy looking, rather than dull, dry, and damaged like other irons do."
5. A Straightener With Argan Oil Right In The Plates
Lanxim Pro Digital Tourmaline Ceramic Flat Iron, $70, Amazon
Nicknamed the "straightener of all straighteners" by reviewer Jax & Jay, the Lanxim Pro Flat Iron features argan oil-infused plates that leave your hair looking smooth and frizz-free while also protecting the cuticles. "After using this on my hair it makes my hair look so shiny and feel soft," says LanMama112012, who calls it the "holy grail of straighteners." She adds, "The plates also have one of the smoothest pull throughs I have ever experienced meaning it glides through the hair so smoothly without catching and pulling."
6. A Flat Iron That Tames Frizz
Vokai Labs Ceramic Flat Iron, $100, Amazon
While the price tag is a little on the high side, the Vokai Labs Ceramic Flat Iron is worth it, say multiple reviewers. What makes this hair straightener so great? Its multiple heat settings that are easy to control, as well as the negative ion technology that won't burn your hair into a crisp. "The plates are ceramic coated so they distribute the heat evenly and consistently, says reviewer vg. They add, "It also has negative ion technology which help with the moisture and shine of the hair."
7. A Hair Straightener That Also Detangles Hair
Nasv OEM Best Hair Heated Straightening Styling Brush, $27, Amazon
Don't you sometimes wish you could brush your hair and go? Well, the Nasv Styling Brush does that, making straightening hair faster and easier. "Usually I use the traditional flat iron, it takes me 3 hours to finish the work, but this hair straightener only takes 30 mins,and it last longer," raves Amazon user Dan Olievskiy.
Images: Marcin Milewski/Tookapic (1), Amazon (7).
Bustle may receive a portion of sales from products purchased from this article, which was created independently from Bustle's editorial and sales departments.