Cameran Eubanks Was Better on 'The Real World'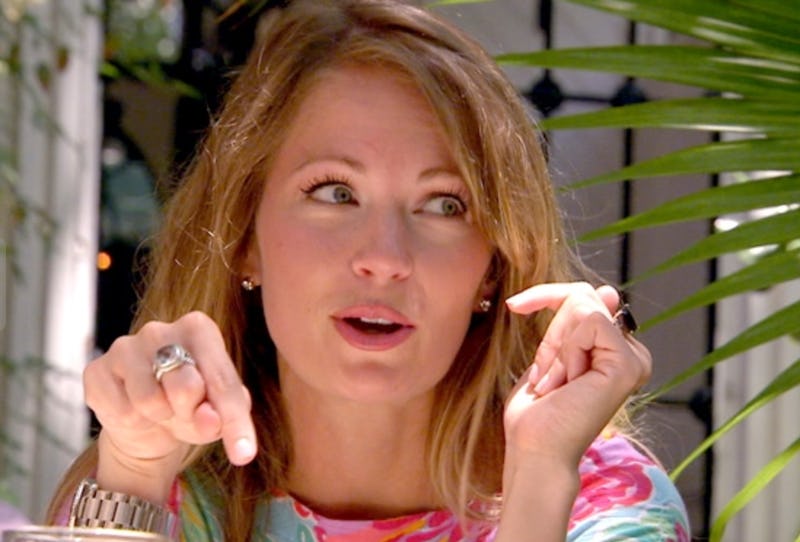 This is a true story: 10 years ago, Southern Charm 's Cameran Eubanks was one of the seven strangers picked to live in a house in San Diego. They worked together. Their lives were taped to find out what happens when people stop being po— well, she stayed relatively polite (she is a Southern belle, after all), but she did get real. That was a tediously protracted way of saying Southern Charm's Cameran was on The Real World back in 2004. She was funny and likable then, and she's funny and likable now. She's Real and Charm-ing. If she ever decides to write an autobiography, she should call it Real Charm. It fits like one of Jenna King's gloves.
As lovely as Cameran was then and is now, we couldn't help but wonder who makes a better reality star: 19-year-old Real World Cameran or 30-year-old Southern Charm Cameran? Granted, it might be a little early to declare a definitive winner (four SC eps vs. a full season of RW is a tad uneven), but SC Cameran has already made a wonderful first impression. Well, a wonderful second first impression. (Okay, if we're going to split hairs and factor The Challenge into this, a wonderful third first impression.) What I'm saying is, these four SC eps provide a hefty amount of solid material. This calls for a matchup. LET'S DO THIS:
Role On the Show:
Real World: She was the "the most naive cast member." As the New York Post writes, she grew up—"smoking and drinking and all — in the public eye" on the show.
Additionally, she was super pretty and fun. An excerpt from her MTV.com bio: "People find Cameran's beauty so stunning that they are shocked when they find her so warm, friendly and down to earth."
Southern Charm: She's the cast's fountain of wisdom and advice. Pull up a chair, order a beer and a Pop Tart for Cameran, and listen to the knowledge she is serving.
And yes, she's still super pretty and fun. "Cameran is one of the rare girls in Charleston that's actually one of the guys," Shep Rose says. "Because she's so beautiful, you can never imagine that right off.
WINNER: Oh, this is a tough one. The naive/sheltered/innocent archetype is always a great reality TV character. However, SC Cameran keeping it real on the reg is so awesome. Guess this round goes to SC Cameran.
Her Career Path:
Real World: Before RW, 19-year-old Cameran was working at the Mellow Mushroom pizzeria in Anderson, SC.
Southern Charm: She has her real estate license and is trying to break into the "sell big old houses" biz.
WINNER: RW Cameran. PIIIIIZZAAAAA.
Hooking Up With Cast Mates:
Real World: Cameran hooked up with roommate Brad Fiorenza in a hot tub in Greece. REMEMBER BRAD?:
Southern Charm: Cameran has not hooked up with or dated anyone in the SC cast, and does not plan on hooking up with or dating anyone in the SC cast.
WINNER: It's cool that SC Cameran keeps it platonic with the cast, but hot tub hookups make for excellent TV. Gotta give it to RW Cameran.
Regarding Men:
Real World: Another excerpt from her MTV.com bio: "Cameran's also not afraid to admit that her on-and-off boyfriend of one year is merely a 'trophy' to her."
Southern Charm: Regarding Charleston men, SC Cameran says,"Maybe breathing in this thick Charleston air is not good. It somehow stunts their emotional growth." She calls this stunted emotional growth "PPS: Peter Pan Syndrome."
WINNER: Close call, but I'm giving this one to RW Cameran. Her saying her BF is nothing more than a "trophy" is so amazingly snarky.
Her Motto:
Real World: Her vibrator was her prized possession, and her motto was "sex can wait, masturbate."
Southern Charm: What's her life motto now? Not sure. Maybe it's buried somewhere in this clip:
"Get over it. It's poop. Everybody poops. Whatever. Move on. Next." DING DING DING.
WINNER: SC Cameran. Poop wins every time. Yes, I'm aware I selected the poop quote as her motto on her behalf. Sorry I'm not sorry. Poop dumps, er, trumps all.
Regarding Reality TV:
Real World: Would RW Cameran ever do reality TV again? Well, in the aforementioned NY Post profile, she said, "Oh, no. I think reality TV has gone insane."
Southern Charm: "I said no many times to doing [the show]. I was very trepidatious about filming another reality show," she told a local NBC news affiliate. "But my friends, my family were like, 'Cameran, life's short. Do it. It'll be fun.'"
"Any time you put yourself on reality television, you have to take it very tongue-in-cheek," she said. "You cannot get easily offended. People are obviously going to say horrible things."
And what does she have to say about the criticism? "All the negativity only boosts our rating for the show."
WINNER: As rational and hip to the sitch as SC Cameran's answer is, I cannot get over RW Cameran's response. RW Cameran was very wrong about not doing reality TV again (see: The Challenge, Southern Charm), but she was so right about reality TV going insane. It has gone insane, and continues to go insane. Reality TV going insane is a good thing, IMHO.
Final Tally:
RW Cameran: 4
SC Cameran: 2
It was a tight race, but the overall winner is: Real World Cameran!
Will SC Cameran manage to dethrone RW Cameran as the current Southern Charm season unfolds? I reckon it is our duty to keep watching and to get that answer.
Images: Bravo; MTV.com