Kathleen Lights Teased Her Nail Polishes Again!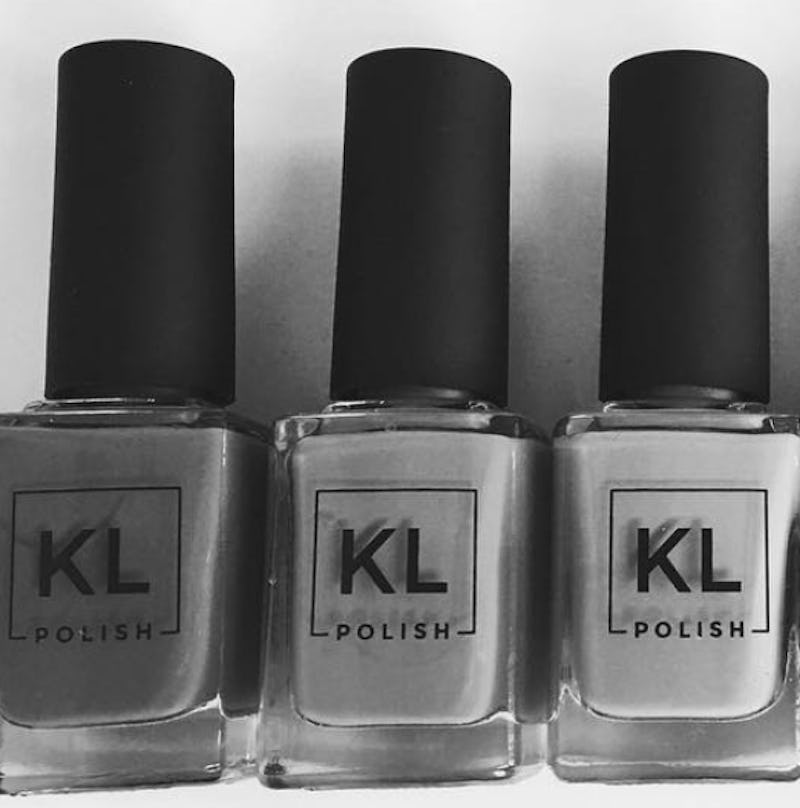 It looks like it might actually be happening! Kathleen Lights recently teased a potential nail polish collection and it set Twitter, well, "alight," with excitement because what could be more rad than Kathleen Lights-created lacquers? The beauty vlogger may have confirmed her nail polish collection via social media when she created a KL Polish Twitter account and teased a shot of the square polish bottles, branded as "KL Polish," with the actual colors obscured by a black and white filter.
So we can't tell what shades comprise the collection. We can't discern if the polish textures are shimmer, matters, or satins, either. Patience, Kathleen Lights fans, patience! All will be revealed soon, and I am confident that KathleenLights will have "nailed" it with her formulas and hues. Let's simply rejoice in the fact that a polish range appears to be on the way. So, how many Kathleen Lights KL Polishes will there be?
Well, the photo that the beloved vlogger posted features 12 bottles. However, it's an inverted mirror image. Her caption also counted from one to six. Therefore, we can make the educated guess that there might be six shades. Perhaps there will be more, but based on the photo, where know there are likely to be at least six.
Kathleen Lights also tweeted that this is not a collaboration. Given that statement and the way the bottles are branded, it seems to be her very own standalone set. Have a look at this photo of the bottles and the "concealed" colors.
That sneaky grey filter! It's such a tease... although I would not be opposed to a black and grey-focused color spectrum. But that's just me.
Kathleen Lights also tweeted an explanation that she used a black and white photo, since some fans were apparently confused about the color selection because of it.
This nail polish collection should be the start of a beautiful (and hopefully extensive) thing. KathleenLights' caption did not indicate when the KL Polish will be available or where but that information will be made available in due time. Hopefully, she will reveal the colors sooner than later because those? I need to see 'em.
As mentioned, the KLPolish Twitter handle now exists. Throw it a follow.
Images: Kathleen Lights/Instagram (1)