KathleenLights' Nail Polish Line Is Happening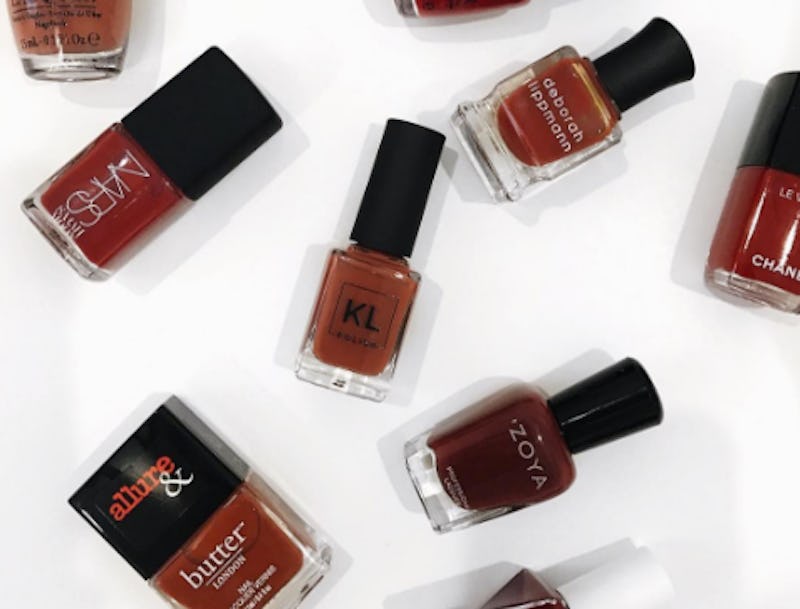 Remember all those hints that the YouTube gave about working on a personal project? Well, the news just got even better. According to her Instagram post, Kathleen Fuentes, AKA KathleenLight, is creating a nail polish line. It's official, people! The influencer posted a sneak peek of the packaging too, so you better start saving now.
There's only one thing better than YouTuber collaborations — when they create their very own beauty line. Jaclyn Hill is in the process of creating her own makeup line, and now Fuentes is getting in on the fun too. She posted a photo of all her favorite fall red nail polishes on her Instagram, which looked like your typical makeup post. Except for one tiny detail. It included a brand called KL Polishes in a gorgeous burnt red, terra-cotta shade.
The gorgeous, simplistic packaging along with her caption makes it pretty clear that this is her own line. Fuentes also used the hashtags #staytuned and #ThatsAllImAllowedToSay, so it didn't take long for her fans to catch onto the sneak peek. I don't know about you, but I'm super excited to see the entire line. Once you spot the exciting little bottle, you won't be able to look at anything else.
How exciting is that! Fuentes has hinting towards a nail polish line for a while now. It all started by her taking polls about different nail polish topics on her Twitter. People caught on pretty darn fast, which caused even more hints to come out. Basically, people have been excited for a while now.
If those aren't hints, then I don't know what is. Needless to say, her fans are pretty excited about the recent confirmation too. Here's what they have to say about the big beauty news.
Hand claps all around.
True fans support no matter what.
It;s such an exciting time!
Sign me up for all the shades, please.
The vlogger is doing great things.
I can't wait until all the details come out!
Images: KathleenLights/Instagram (1)