One Thing You Never Understood About 'Space Jam'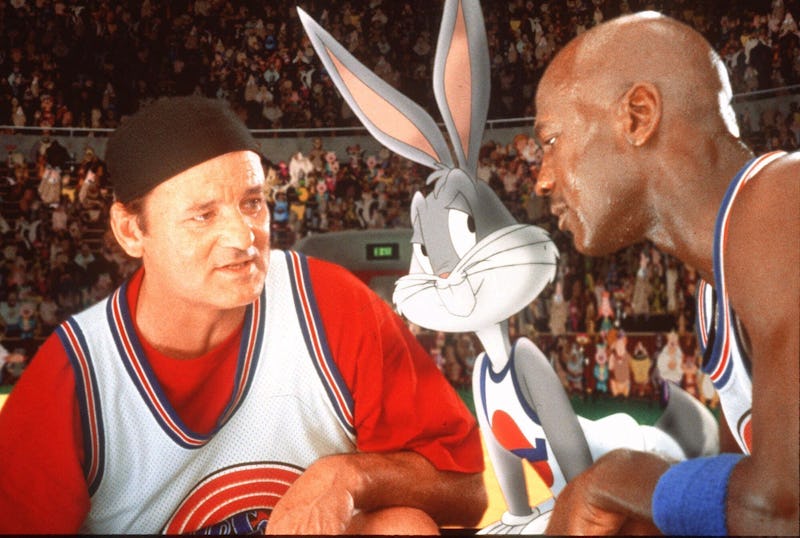 Twenty years ago in 1996 we learned in Space Jam that Bill Murray "doesn't play defense" and we, the millennial generation, fell in love with him for it. Some of us knew, but many of us didn't at the time, that the elder generations had been in love with the iconic comedic acting mastermind for years. Before he was golfing with Bill Murray and Stan Podolak (Wayne Knight AKA Newman from Seinfeld) since he got his start on Saturday Night Live in 1976 and went on to star in classics like the Ghostbusters franchise and Caddy Shack.
But the thing that doesn't quite make sense to me now is this: Why the heck is Bill Murray even in the movie? How did the famous basketball player become friends with the famous actor in the Space Jam universe? And why did they decide to be golf pals? And most importantly, where did Bill Murray get that Looney Tunes jersey when he comes in and saves the day in the basketball game against the colorful, tortured Nerdlucks?
To be fair, it's not totally unbelievable that Murray and Jordan are pals (at least in the movie) — they've both got a Chicago thing going on with Jordan playing for the Chicago Bulls and Murray, an adamant Chicago sports fan who grew up in Evanston, Illinois. It totally makes sense that the two could have met at some sort of fancy Chicago party and decided to be best buddies. But in the beginning of the movie Jordan plays for the minor-league team, the Birmingham Barons so he's living in Birmingham, Alabama. What's Bill Murray doing in Birmingham? Is he just a live-in BFF for Jordan? According to sources, Murray's lived in New York City, Martha's Vineyard, and Malibu — but nobody mentions Birmingham. Just what's going on here?
It turns out, the answer is actually in Space Jam itself. When the ever curious (and also ever grouchy) Daffy Duck asks Murray, "how did you get here?" Murray responds: "the producer is a friend of mine." And this line isn't just a joke. The producer of Space Jam, Ivan Reitman also produced the original Ghostbusters movies, and Stripes, both films starring Bill Murray.
There's another reference to Murray's roles in Ghostbusters and SNL, when Danny DeVito's character, Mr. Swackhammer, the evil alien owner of the intergalactic theme park "Moron Mountain," acknowledges the newest member of the Looney Tunes team. The cigar-smoking baddie proclaims, "Hey! I didn't know Dan Aykroyd was in this picture!" Aykroyd appeared alongside Murray in both of these performances: Ghostbusters and SNL.
So basically, Bill Murray's appearance in Space Jam was just an appeal to our elders' nostalgic sides, but it also introduced some of us young'ns to one of the great loves of our collective lives, the casual comedic stylings of one William James Murray.
As for how, when, and where Murray got his Looney Tunes uniform, there are some things we are not meant to know.
Images: Warner Brothers, Giphy (2)