The Opera Crowd Isn't In 'Bachelor' Nation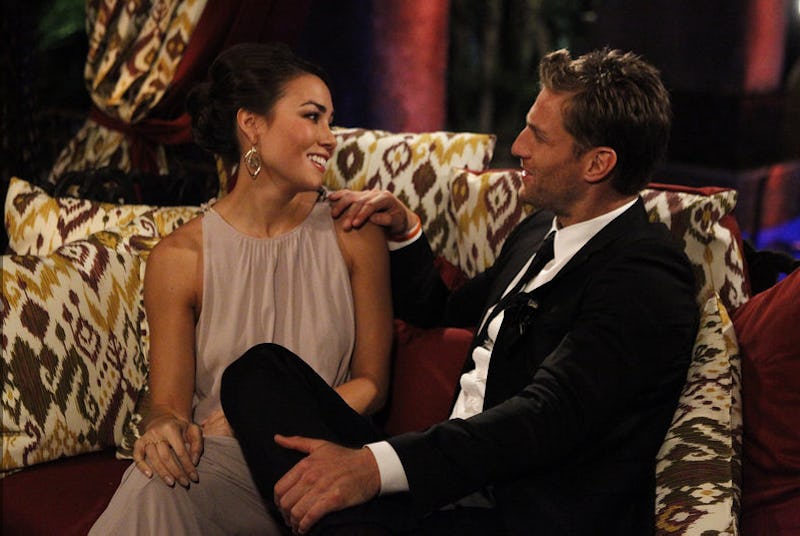 Does anyone else really miss Sharleen Joynt? If you recognize the name Sharleen Joynt, then you probably do. For those unfamiliar, Sharleen was the most normal Bachelor contestant that ever happened. Sure, she shared some icky-looking kisses with Juan Pablo Galavis and one time used a questionable bear metaphor, but who among us hasn't kissed ickily or used a half-baked analogy? Sharleen was great, but almost too great to the point where you were like, "Dude. What are you doing on this show? Aren't you ruining your opera singing career?" Well, now we have our answer. Yes, The Bachelor effected Sharleen Joynt's career. Ugh! Juan Pablo destroys everything he touches!
Sharleen sat down for an interview with WQXR, a New York classical radio station, to talk about her career post-Bachelor. Basically, Sharleen suffered from FOMO. She says, "You know it's once-in-a-lifetime even if it's not highbrow once-in-a-lifetime." This explanation probably isn't surprising to anyone who watched the show and saw Sharleen constantly battle between her physical attraction to Juan Pablo and her need for a more intellectual connection. She once even said, "I wish I was a little dumber."
Sharleen goes on to say, "I think that the opera world is very wary of me at the moment. It's not easy. Everything I've done so far in my life has been for [my opera career]." Sharleen is currently an understudy at the Metropolitan Opera, but was recently turned down for a part at a "B-level American house" because she was too "junior league." Ah! The wrath of Juan Pablo follows her!!!
Sharleen also opened up about not wanting to sing on the show. Apparently, the producers pushed her to sing more (of course they did!), but she refused to other than briefly while on a date with Juan Pablo.
Even with the effect it may have had on her career, Sharleen does not regret her time on the show. She says, "I would be lying if I said I didn't have moments where I said, 'maybe this was a huge mistake.' But it was a fun experience... I only have good things to say about it overall." Obviously, Sharleen has a good gig going with the Metropolitan Opera, so The Bachelor couldn't have been that detrimental. Anyway, I know Bachelor Nation is huge and all, but there can't be that many opera producers that watch the show, right?
Image: ABC