Sugarpill's Pretty Poison Lipsticks Are Coming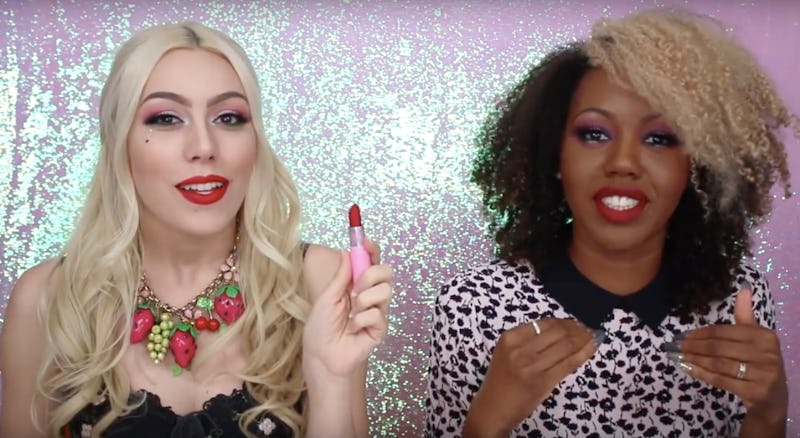 Sugarpill Cosmetics are known for their vegan and cruelty free makeup formulas as well as their super pigmented lip colors. The Sugarpill Pretty Poison lipsticks are the brand's latest collection of solid matte shades, and they're swoonworthy to say the least.
So when can we get our hands on these intensely colored lipsticks in their signature super cute pill packaging? According to Sugarpill Cosmetic's Instagram, the Pretty Poison lipsticks will be available for purchase on the company's website as soon as Nov. 14.
From the company that brought you donut-scented lipstick, Sugarpill is debuting six new solid lip colors so noteworthy that beauty lover and cosmetics maven Kat Von D shared them via her Instagram page. She captioned the photo of her new lipsticks, "But like seriously, how fucking cute are these new @sugarpill lipsticks?! 💘💊💄 *and they're #vegan and #crueltyfree too! 🐰 #prettypoison."
The stunning new shades in the Pretty Poison lipstick collection range from Detox (a fiery orange color), to Cubby (a pretty coral), to Girl Crush (the perfect shade of fuchsia), to Nurse (a scarlet red), to Spank (a medium purple shade), and lastly, to U4EA (a dark turquoise color).
The matte lipsticks are set to retail for $20 a piece or $120 for all six colors, keeping them on-par with the prices of many competitive lip shades.
Here, a closer look at the the Pretty Poison collection.
In anticipation of the Pretty Poison launch on Nov. 14. Check out the insanely pigmented swatches below.
These brightly pigmented popsicle colors are reminiscent of a Katy Perry music video, no?
According to the video above (the first ever for the brand's new YouTube channel), Sugarpill's lipsticks are a "non-drying matte formula with pigmented one swipe coverage." Judging by the video, the formula really does look great with only one swipe.
Fingers crossed that we can get our hands on these pretty popsicle hued lipsticks before they sell out. Until they go on sale on Nov. 14, all we can do is swoon.
Images: Sugarpill/YouTube