12 Sex Toys To Give Your Partner This Holiday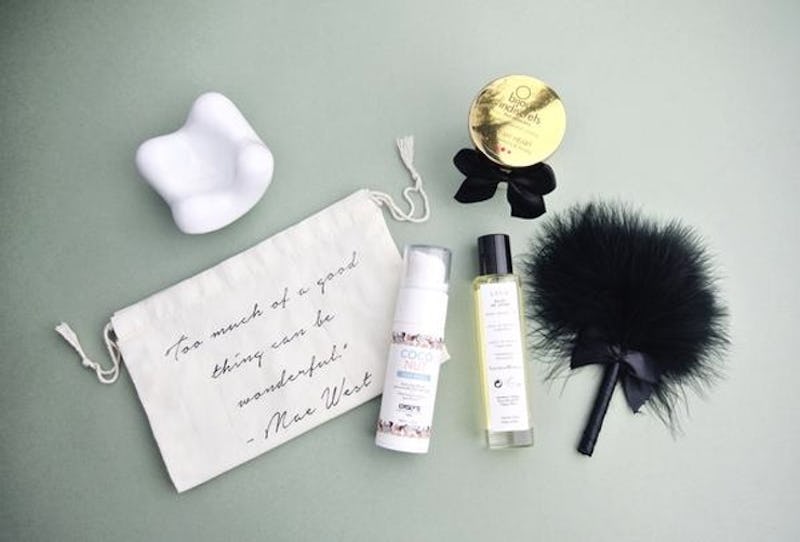 When it comes to doing your holiday shopping, sex toys might not be on the top of your list. We don't really think of them as holiday gifts — but can I ask, why not? They're way more fun than a sweater and way more useful than a pair of socks. And when you give your partner a sex toy for the holidays, it's something you both get to enjoy.
The best part is, it doesn't matter what your sex life is currently like. Whether you're someone who regularly practices BDSM or you like to stick to romantic sex once a week, there's something out there that will not only tantalize you, but hopefully help you learn and explore what you like in the bedroom. Just because you haven't tried one before, doesn't mean you can't now. "When you try new things together you are creating shared experiences that are new and exciting," dating coach and licensed marriage and family therapist Pella Weisman tells Bustle. "That shared excitement is a way to have both closeness and stimulation, which is a great combination for sparking things back up."
There is no shortage of options. So here are 12 sex toys to give your partner this holiday season, because 'tis the season to get kinky:
1. Babeland Beginner's Strap On Set
Everybody needs a first time. Whether you're interested in pegging, in a lesbian relationship, or just want to play, this set gives you everything you need for a first time with a strap on. It comes with all the trimmings — harness, vibrator, lube— and what you do with it all is off to you.
Babeland Beginner's Strap on Set, $95, Babeland
2. Womanizer Deluxe
Yes, it's pricey, but this product delivers. A mixture of vibration and suction does not mess around. Don't believe it? Check out this video of women who tried to orgasm with one in under three minutes (hint: most of them did). For the woman you really, really love.
Womanizer Deluxe, $219, Babeland
3. Rings of Fire Nipple Press Set
A nipple toy worth of a jewelry box. If you haven't tried nipple play before, here's a way to get into it in style. Each of these presses comes with four little screws, so you can tighten just to their liking.
Rings of Fire Nipple Press Set, $48, Babeland
4. Crave Bullet
I love bullet vibrators but this one has the extra luxury edge because boy, Crave knows how to do upscale. You can get it in stainless steel or 24k Gold plate and it fits into bullet-compatible toys. Or it's great for use on its own. Luckily you can charge it with a USB, because it's going to see a lot of use.
Crave Bullet, $69, Babeland
5. Remoji M-Cup
If you're looking for something to keep your fella company while you're not around, look no further. The Remoji M Cup is a masturbation sleeve he can use without thrusting, instead using vibrations set to music. Even better? It's controlled by an app, so you can take over control.
Remoji M-Cup, $129, Babeland
6. Squeel Go
What's better than one tongue? Ten. Ten tongues. And that's exactly what Squeel Go aims to replicate. Rather than a traditional vibrator or dildo, here we have a cunnilingus imitator. Plus it's friendly, so you can enjoy it anywhere. The ultimate stocking stuffer.
7. We-Vibe Sync
We Vibe is always a favorite among couples toys and this latest addition is a definitely winner. You can use it during penetration and, because it sits on the clit and G-spot, it's hand-free — you can even bend it to help better fit your shape. A gift you'll both love.
We-Vibe Sync, $199, Babeland
8. Babeland Duet Cock Ring
Cock rings are great if you and your partner are just venturing into toy territory. They are small and not intimidating and a vibrating one makes sure that you both get something out of it. This model has a bullet vibe for near his balls and a top vibrator for your clit just to make sure you'll both be smiling.
Babeland Duet Cock Ring, $45, Babeland
9. Sex Questions
Maybe toys are a bit of a leap for you and your partner? No problem. These sex questions will help open up the conversation. You'll learn about what the other one likes or fantasizes about it a fun, easy way. The toys will come later.
Sex Questions, $16, Babeland
10. Poem Chocolate Body Paint
Sometimes it's all about the foreplay. This takes edible fun and adds a fancy, gift-worthy twist. The jasmine-scented liquid chocolate ink can go all of you or your partner's body— and you can figure out what to do next. Oh and don't worry, it's gluten-, sugar-, and lactose- free.
Poem Chocolate Body Paint, $20, Babeland
11. Pocket Toyfriend
For anyone who finds larger sex toys intimidating or is worried about getting caught with one, Pocket Toyfriend is a perfect introduction. Small, discreet, colorful — they're easy on the eyes. And don't let their one speed only fool you, they still pack one hell of a punch.
Pocket Toyfriend, $22, Babeland
12. Massage Box By Unbound Box
Talk about taking date night to a whole new level. Edible massage oil, a candle, and a tickler — yup, a tickler. Give this to your partner and you'll both get to enjoy it. It's a perfect end to a winter's date night.
Massage Box By Unbound Box, $65, Unbound
No matter what you and your partner are into or how experienced you are, there's a sex toy out there that's the perfect gift — they really do come in all shapes and sizes. And the best part? Even if it's just them, it's fun for you too.
Images: Babeland; Unbound Box