19 'Housewives' Episodes To Watch For An Escape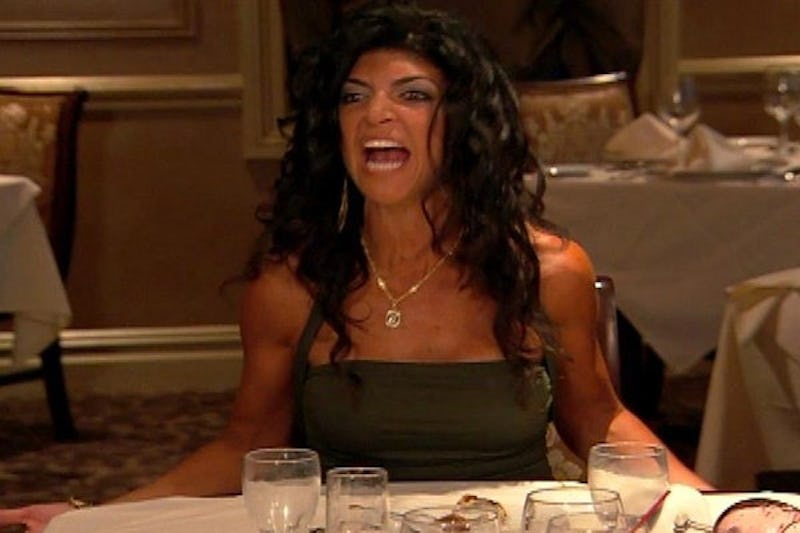 I cannot resist a Real Housewives marathon. Even though I've seen every single episode from every city multiple times, it's really hard for me to fight the urge to watch again. This is especially true when it comes to my absolute favorite episodes. So, if you're looking for the best Real Housewives episodes to watch when you need to escape reality, you've come to the right place.
Below are the most iconic episodes with moments that have been dissected by talk shows, turned into memes, and posted as gifs on social media. These are the episodes that you can just get into no matter how long it's been since you saw the episode that came right before it. They're stand-alone episodes that really know how to suck you in to a point where you are laughing uncontrollably and forgetting about anything happening in your own reality.
As much as I love anything and everything Real Housewives, even I have to admit that not all episodes are equal. There have been far too many epic moments over the years and the episodes with those scenes deserve to be separated from the rest because they are just that good.
If you are a Real Housewives fan in need of a break from the reality of real life, just watch one (or more) of these episodes for the perfect escape.
1. Teresa Flips The Table
This iconic moment went down during the Real Housewives of New Jersey Season 1 finale. The cast gathered for a dinner with their families and all hell broke loose when Danielle Staub asked Teresa Giudice to "pay attention." I could watch this episode a million times and still get sucked in every single time Teresa yells "Prostitution whore!" before the silverware went flying.
2. Aviva Throws Her Leg
Everyone had just about had it with Aviva Drescher by the time the Real Housewives of New York City Season 6 finale came around. They were at a nice dinner and all of sudden with no real lead in, Aviva just yells, "The only thing that's artificial or fake about me is this" and takes off her own artificial leg and tosses it into the middle of the room. Every single person in the room gasped, and I will never get over it, either.
3. Shereé Tugs On Kim's Wig
The third episode from Real Housewives of Atlanta's Season 2 was just insane. Kim Zolciak, Shereé Whitfield, and NeNe Leakes were at some sort of peacemaking dinner and, obviously, that was not going to go over well. You know things are getting way out of hand when NeNe of all people steps in the middle to intervene. Shereé ended up pulling Kim's wig and Michael Lohan randomly walked by. It is the perfect mess of an episode.
4. Kyle & Kim Richards Argue In The Back Of A Limo
There was always some sort of underlying tension between the Richards sisters throughout Real Housewives of Beverly Hills' first season, but it was never really addressed. That all changed during the very last moment of the finale when Kim yelled at Kyle, "You stole my goddamn house!" And then we saw Kyle's calm, cool demeanor from the season melt away as she went in on her sister.
5. Vicki Compares Herself To Jesus At Tamra's Baptism
This episode was the Season 10 finale for Real Housewives of Orange County. The entire episode was ridiculous, Tamra Judge got baptized in a luxurious pool, Shannon Beador lost part of an at-home colonic in her body, and Vicki Gunvalson had the audacity say that she was "getting nailed to the cross like Jesus was." The entire thing was outrageous.
6. Danielle Brings Up Teresa's Family
RHONJ's Season 2 reunion was extremely heated and pretty much everyone was directing their anger toward Danielle Staub. Danielle and Teresa were having another argument and Danielle asked Teresa, "Did you acknowledge your nephew?" Teresa flipped out and told Danielle not to bring up her family, she even pushed reunion host Andy Cohen out of the way so she could get to Danielle. And, as we all know, the nephew Danielle referenced was the son of Melissa Gorga, who ended up getting cast on the show.
7. Luann Refers To Heather As "Uncool"
Heather Thomson was not at all happy when Luann de Lesseps brought a dude back to the crib during their group vacation. Heather let her distaste be known, and Luann, who clearly had just woken up, infamously told Heather not to be "uncool." Heather's freak-out and Ramona and Luann's lack of reaction makes Season 7 episode 15 an amazing one to watch over and over again.
8. The RHOBH Ladies Go To Amsterdam
The RHOBH trip to Amsterdam during Season 5, Episode 16 was absolutely insane. I would not go on that trip if you paid me. (Yes, I know that they were literally paid to go on that vacation, but you get what I mean.) One of the craziest parts was when Kim Richards started talking about Lisa Rinna's husband, Harry Hamlin, and Rinna just lost it. She threw a full glass of water at Kim, and Kim's sister Kyle literally ran out of the restaurant.
9. Shereé Confronts The Party Planner
The second season of RHOA got started on the right foot thanks to all of the craziness in the premiere: Shereé confronted a party planner by asking "Who gon' check me boo?" when she wanted to plan a party to celebrate her divorce. Kim Zolciak hilariously contemplated started a wig line. And it was also Kandi Burruss' first episode.
10-12. Scary Island
This RHONY vacation was beyond epic. In all honesty, you need to watch all three vacay episodes (Season 3, Episodes 11-13). It was Ramona Singer's "renewal" vacation, which is a ridiculous concept in itself. There was a ton of drama between Bethenny Frankel and Kelly Bensimon the entire time. Kelly went on a rant about Al Sharpton and jelly beans. Then, Jill Zarin showed up to surprise Ramona and that didn't go over well at all.
13. The Brawl At Melissa's Son's Christening
The RHONJ Season 3 premiere was one of the craziest episodes ever. It was the first time we saw the Gorgas and it was the beginning of a new Gorga vs. Giudice era. There was so much tension between everyone that resulted in an all out brawl between the family members.
14-16. RHOC Goes To Ireland
The entire Ireland trip from RHOC's Season 11 is worth watching (episodes 15-17). The whole time Tamra Judge, Heather Dubrow, and Shannon Beador were against Kelly Dodd. And things really got crazy when they all were yelling at Kelly in a van on the way to the airport. This is another vacation that I would never want to go on, but I would love to watch over and over again.
17. Kyle & Camille Argue About A Trip To Hawaii
During the first RHOBH season, Camille Grammer was the villain and a big reason for that was her feud with Kyle Richards. And a big part of that was their argument about Camille's spring break trip to Hawaii that her then-husband, Kelsey Grammer, wasn't going to take part in. The argument was epic and you cannot help getting invested in the episode. Every. Single. Time.
18-19. Claudia Comes For NeNe
Claudia Jordan's time on RHOA was very short-lived, but the one thing I'll remember her for was having the audacity to stand up to NeNe Leakes. I can't imagine any person being comfortable doing that. It seems like quite the daunting task. Watching these two go at it during the group's trip to Puerto Rico in Season 7 (episodes 10-11) was wild.
Sometimes the best thing about reality television is that it really does not mirror your actual reality at all. If you watch the Real Housewives shows as a chance to escape, then these are the episodes that you need to put on during your time of need. They will not disappoint. Promise.
Images: RealityTVGIFs/Tumblr (1); Bravo (1)