Jax Taylor Answers Tough Qs On 'WWHL'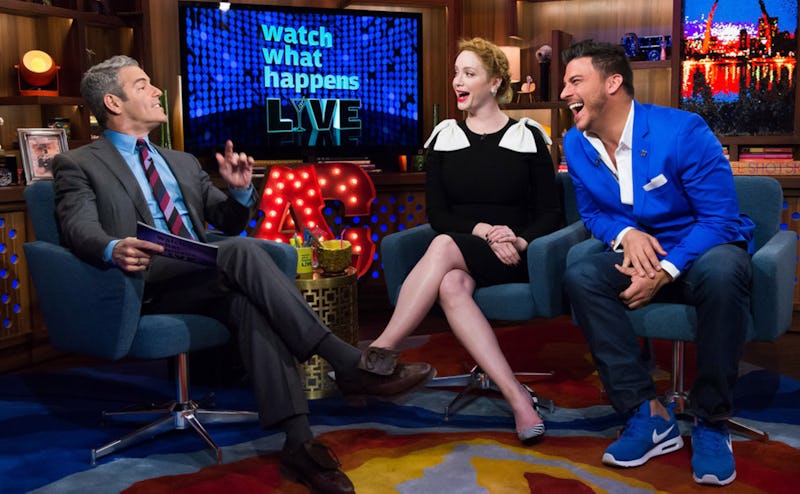 Whether any of us realized it or not, we Vanderpump Rules fans have been waiting for a certain quiz show for three years. And this week, that quiz show finally came to be. On Monday's episode of Watch What Happens Live, host Andy Cohen played a trivia game with Bravo Clubhouse guests Pump Rules star Jax Taylor and actor Christina Hendricks. It was not just any trivia game, but a very special trivia game inspired by the Pump Rules Season 2 revelation that Taylor cheated on then-girlfriend Stassi Schroeder with their co-star Kristen Doute, while watching Nicolas Winding Refn's 2011 feature film Drive. (Oh, and may we not forget that Taylor's best friend/Doute's then-boyfriend Tom Sandoval was snoozing in the other room the whole time. Bless this show and everything it has given, and continues to give, us.) The object of this very special trivia game: Find out just how much of the movie the chunky knit sweater-loving Bravolebrity saw on that fateful evening. You can watch the WWHL game here.
Do you know how you know you are a true Pump Rules nut? If the movie Drive comes up in conversation and you only think about The Slap Heard 'Round The World, you are about as hardcore a Pump fan as you can get. Sorry, scorpion jacket. Sorry, Staples Center parking garage. Sorry, hammer. Sorry, "A Real Hero" by College and Electric Youth. You all are neat-o, but I just can't resist the drama that fueled the second season of the Real Housewives of Beverly Hills spinoff.
But can you really blame me?
Hendricks, who played a supporting role in Drive, was tasked with quizzing Taylor on where the movie takes place, the name of Ryan Gosling's character, what happens to her character, and so on. Based on his answers, I would say Taylor glanced at the Blu-ray case, popped the disc in the player, hit play, and then left the apartment entirely. And by "left the apartment entirely," I mean "was too busy doing the deed with his best friend's then-girlfriend/his then-girlfriend's best friend to notice the Staples Center parking lot, the L.A. skyline, the L.A. River, the Pacific Ocean, or anything else that might've clued him in on where Drive takes place."
Image: Charles Sykes/Bravo